Delectable Mountains
Delectable Mountains is another one of my favorite quilt blocks.
I am in awe over Bonnie Hunter's Scrappy Mountain Majesties! I absolutely adore that quilt! Bonnie has excellent instructions on how to make it by slicing up half square triangles. She also lists several layouts for the blocks.
If you are a visual learner Amanda from 3 and 3 quarters has a great tutorial for the mountain block.
I needed a small gift for a friend's father in a nursing home – she wanted blues and greens as the primary colors.
I started with these half square triangles from Moda's V&Co Simply Style: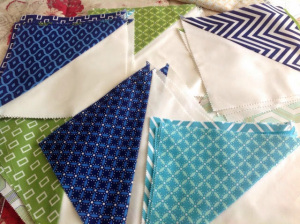 Simply Style HST
Using the layouts from Bonnie Hunter's tutorial I tried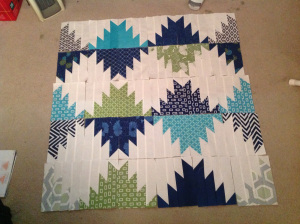 Mountain – Layout 1
and this:
Mountain – Layout 2
My friend and I decided to not use the prints with the lighter values so the final layout was: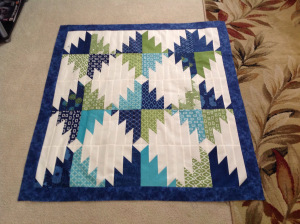 Mountain Final
I will probably use my embroidery machine to do some feather quilting in the white areas. I really did enjoy making the mountain block I will definitely make it again!
Until next time — live love and sew!