Modern Patchwork Christmas Trees
Hello Friends — between work, visiting family and looking for a new house I haven't had time to chat. Usually I'm organized and plan ahead with my Christmas gift giving– not this year?
I finished my Christmas hexagon table topper that I started before Thanksgiving.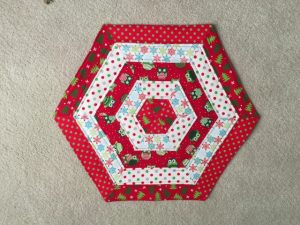 Christmas Hexie TR
I used fat quarters for this topper and had large scraps left over.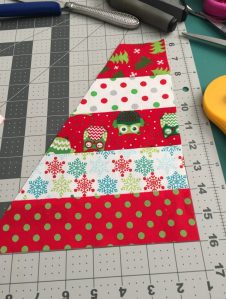 Christmas Hexie Scrap
Because of their odd shape my first inclination was to toss them out – then I had the famous "aha" moment by realizing I could cut the scraps into smaller triangles using my tri-recs ruler set.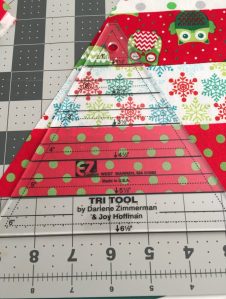 Christmas Hexie Tri Recs
One of my favorite quilt pattern/tutorials is Christa Watson's Modern Trees. Using the tutorial as inspiration I created 4 mug rugs from the scraps.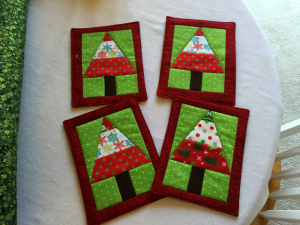 One gift down many more to go!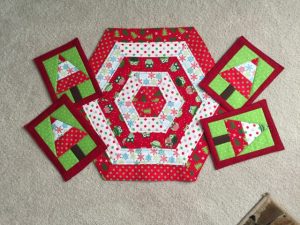 Hexie Gift Seft
Topper : 23 inches
Mug Rug /Snack Mats : 7 x 9 inches
Fabric: Christmas bundle JoAnn Fabrics
outline quilting with walking foot
Gift #2
My husband's family are big Green Bay Packer Fans. I made this wall hanging for my mother in law. Each panel was created with my embroidery machine including the quilting. I stitched the panels together added a backing, stitched in the ditch and added binding. If you have an embroidery machine and would like to make one you can purchase the Fabric Strip Trees design from Chantell's Creations. I used the 7.8 x 11.7 inch file to create my wall-hanging.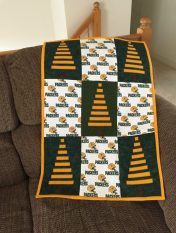 Packer Christmas Trees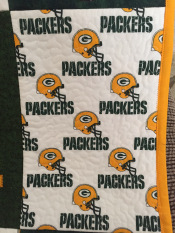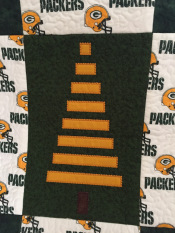 I did manage to find time to make a small modern trees wall hanging for myself!
Quilt measures 20 x 33. Fabric from my stash.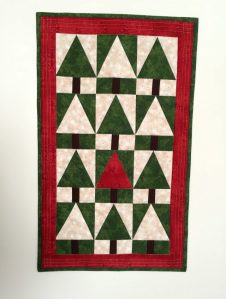 Christmas Patchwork Trees
Thanks for stopping by!