Friday Finishes
Happy Friday! I hope everyone has had a great week.
I was able to spend lots of time in my sewing room this week so all is good with me ?
I love reading and seeing blog hops. I get inspired seeing how other quilters display their creative talents using fabric.
When I read the blog posts displaying the fabric line Makers Home by Natalie Barnes it was love at first sight for me. The collection is made with beautiful modern prints in bold colors and several black and white low volume prints.
I immediately bought a couple of charm packs and a few fat quarters to get my creative juices flowing!
My Makers Home Projects:
Simple patchwork placemats – finished size 12 x 18 inches
makers home placemats front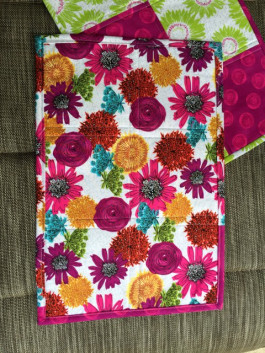 makers home placemats back
Drunkards Path flower mini quilt – finished size 19 x 19 inches

I used my Creative Grids Round Up tool to create the drunkards path blocks and 28- 5×5 charm squares.
mini quilt dp
Plus X table runner – finished size 14 x 68
I used 55 – 5×5 charm squares
Another opportunity for me to practice free motion quilting, this design is called loopy meandering. Far from perfect – I'm just proud I didn't chicken out at the last moment and do walking foot quilting. I like the texture this design creates, I'm sure I will be using it again and again!

I really enjoyed determining the fabric placement. I tried to have every other block showcase the dominant color as the plus or cross design.
makers home table runner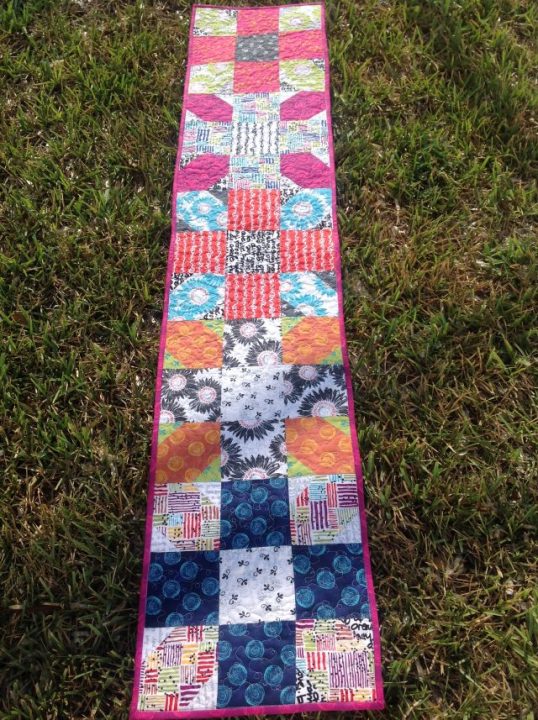 makers home table runner
makers home table runner
makers home table runner
I also started a new baby quilt, hope to finish this weekend . What quilty plans do you have this weekend ?
Linking up with Myra at Busy Hands Quilts Finished or Not Fridays!
Until next time Happy Sewing!