Holiday Mini Quilts – Day 2
Happy New Year!
Today is a work day…company is gone so I'm stripping beds, taking down decorations and overall house cleaning! My Santa kids were super generous this year giving me a robotic vacuum cleaner. I'm so impressed with how well it cleans and most importantly saves time ?
2018 made me realize that I am a small project quilter. I enjoy making items I can use right away or give to family and friends. On my bucket list I do have making hubby and I queen sized bed quilt and having it professionally quilted! In the mean time I will stick with the small stuff ?
Today I'd like to share a few more of the mini quilts with embroidery that I made during December.
I added craft magnets to the back of these mug rugs to hang on the refrigerator. The "Ho Ho Ho" design was purchased from Planet Applique, the Merry Christmas design is a combo of designs purchased from Five Star Fonts and Itch to Stitch, both were edited by me to make the mug rugs.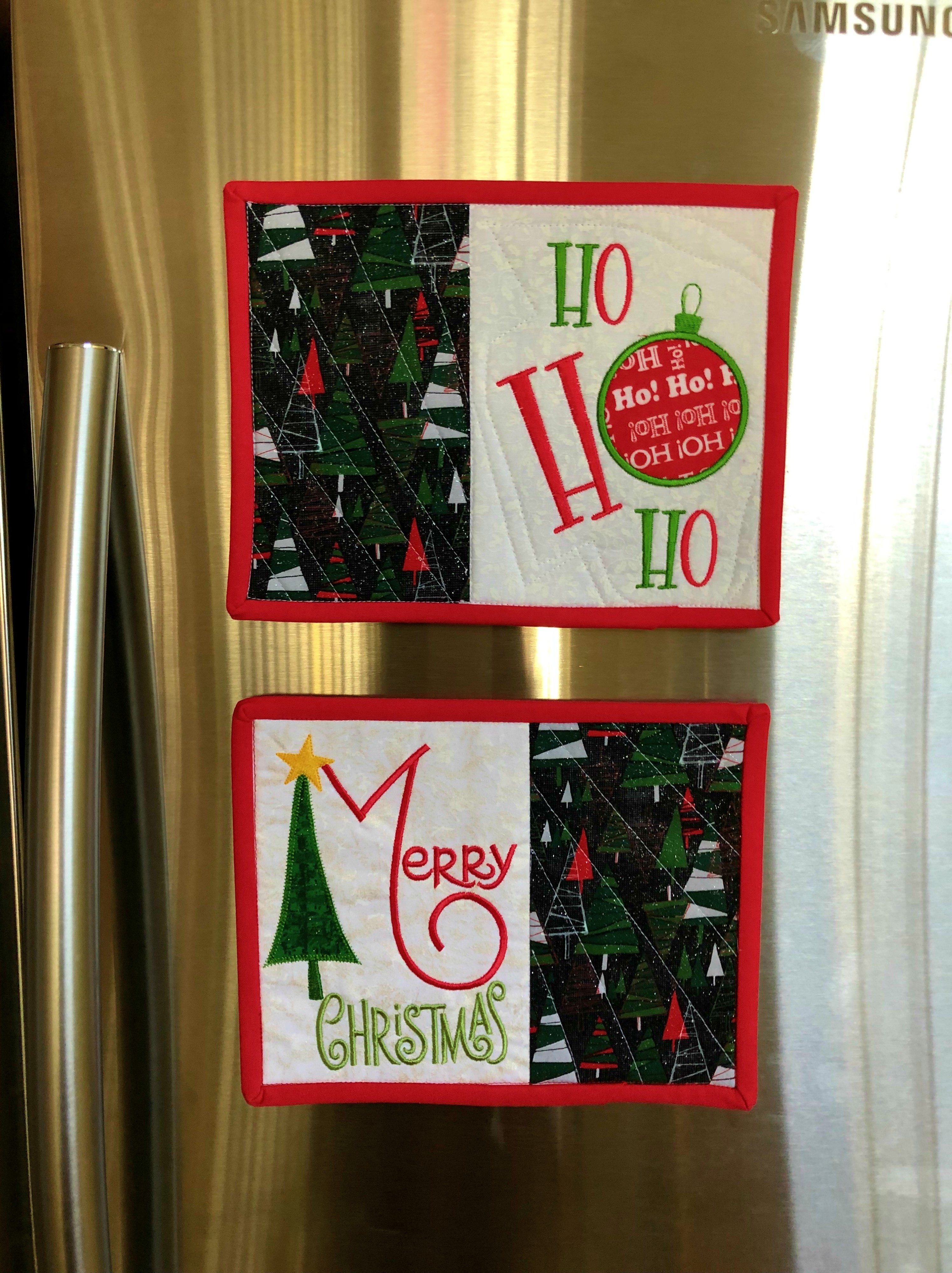 Christmas 2018 Mug Rug Magnets
Snack mats – I'm not much of baker but I do make really good brownies! Hubby and I like to have snacks during TV time in the evenings. I digitized the machine applique letters using software, but was inspired by a design I saw on Etsy.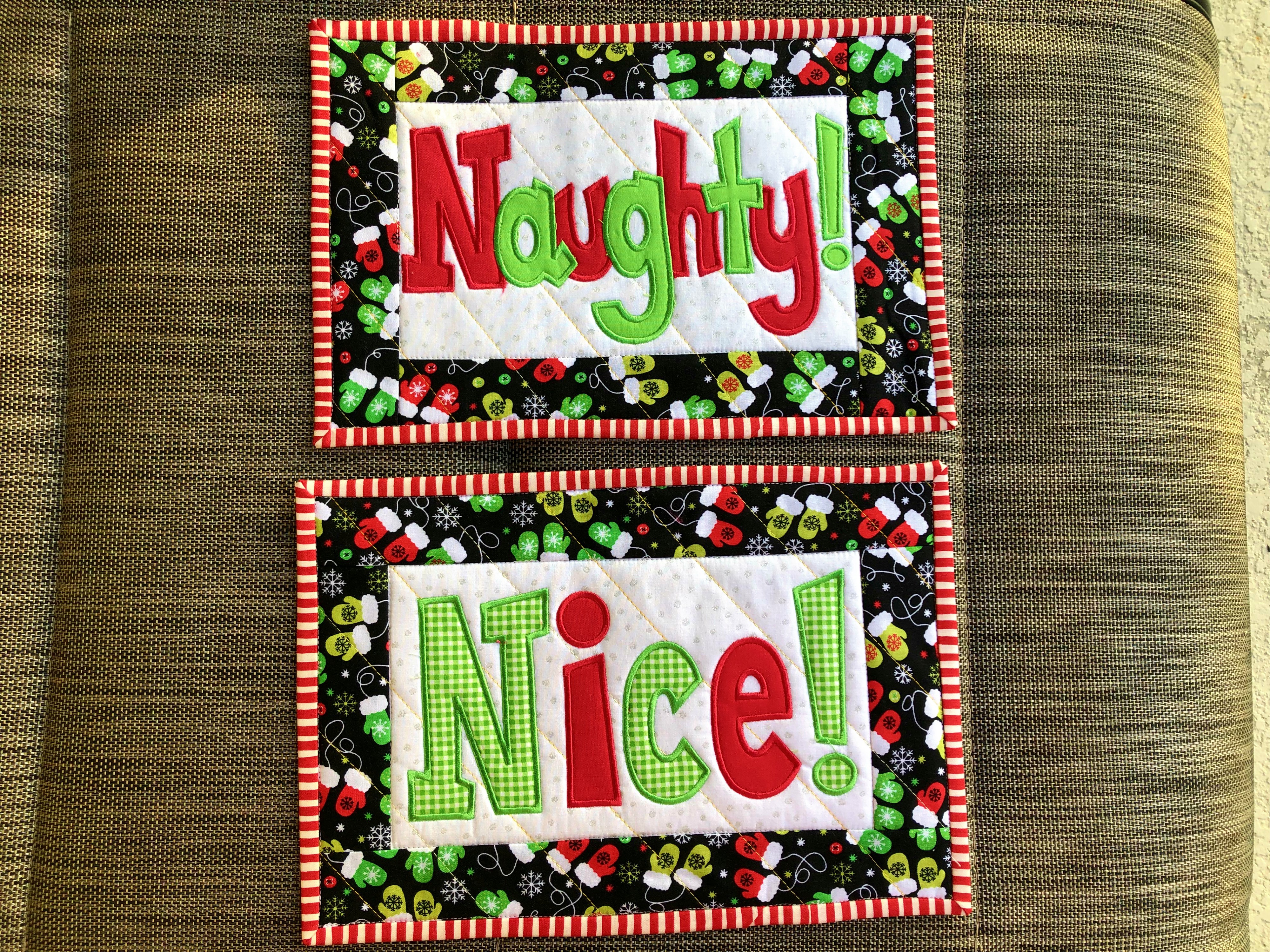 Christmas 2018 Snack Mats
We have a dedicated coffee counter in the kitchen. I made a little runner for that area. Embroidery designs purchased from Embroidery Library.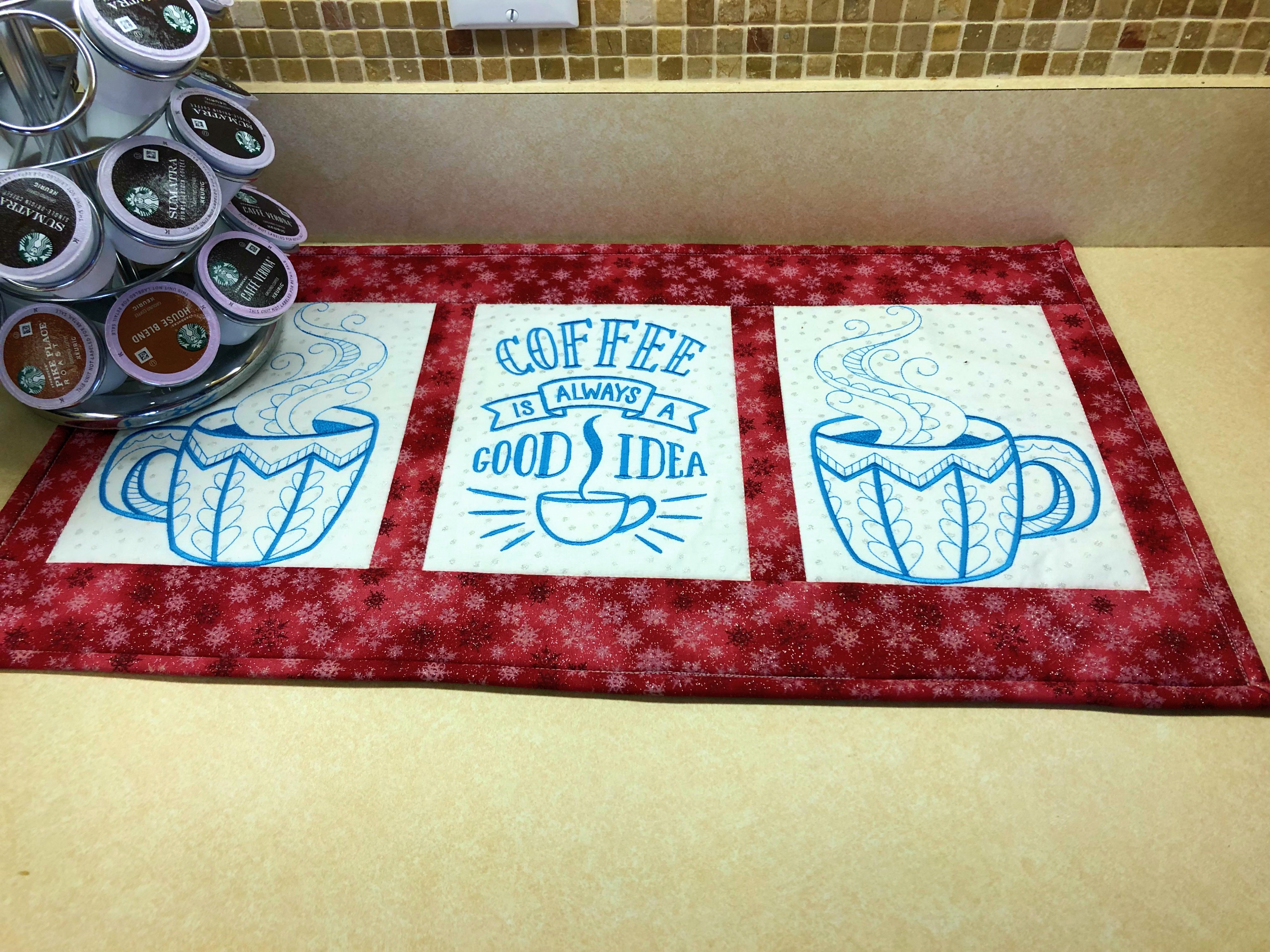 Christmas 2018 Coffee Mat
Small wall quilt I used for a guest bathroom. Chevron tree applique design purchased from Planet Applique.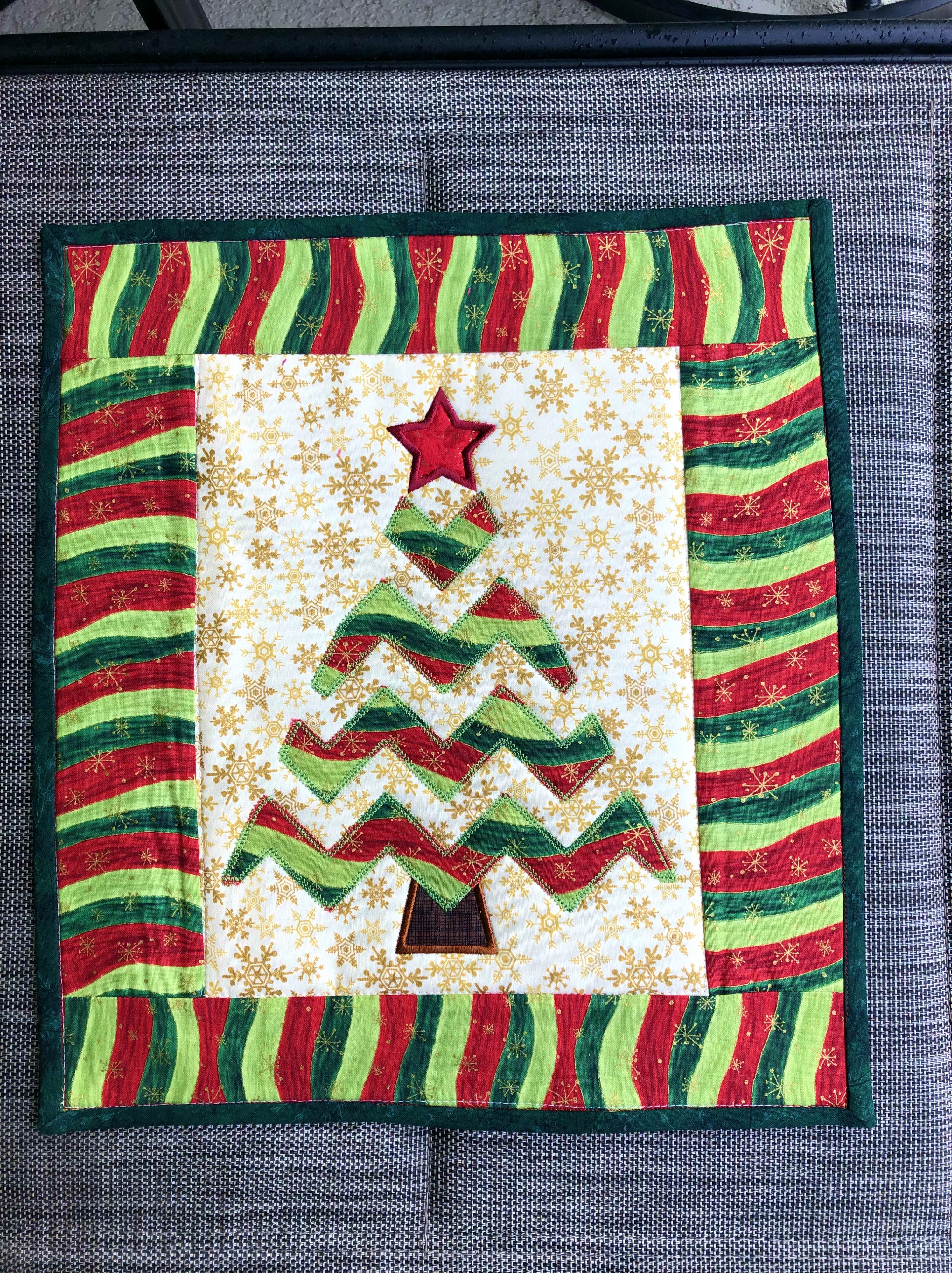 Christmas 2018 Chevron Tree Mini Quilt
Same design — one I framed one I gave as a gift. Applique design purchased from Linnie Pinnie.
Christmas mini embroidery

Christmas 2018 Framed Embroidery
In my opinion you can never have too many pillows! The two embroidery designs shown I purchased from Embroidery Library. The quilt above the pillow I made in 2017. Matches perfectly! Pillow on the left is 14 x 14 inches , pillow on the right 12 x 16 inches.
Xmas 2018 Naughty Nice Pillow

Xmas 2018 heart pillow
I used this tutorial to make the gnome block from Sew Can She. The block finishes at 12 x 12 inches. I added borders to fit a 14 inch pillow form. The quilt shown is the supersized hash tag quilt I made using 2 Kate Spain Joy charm pack two years ago.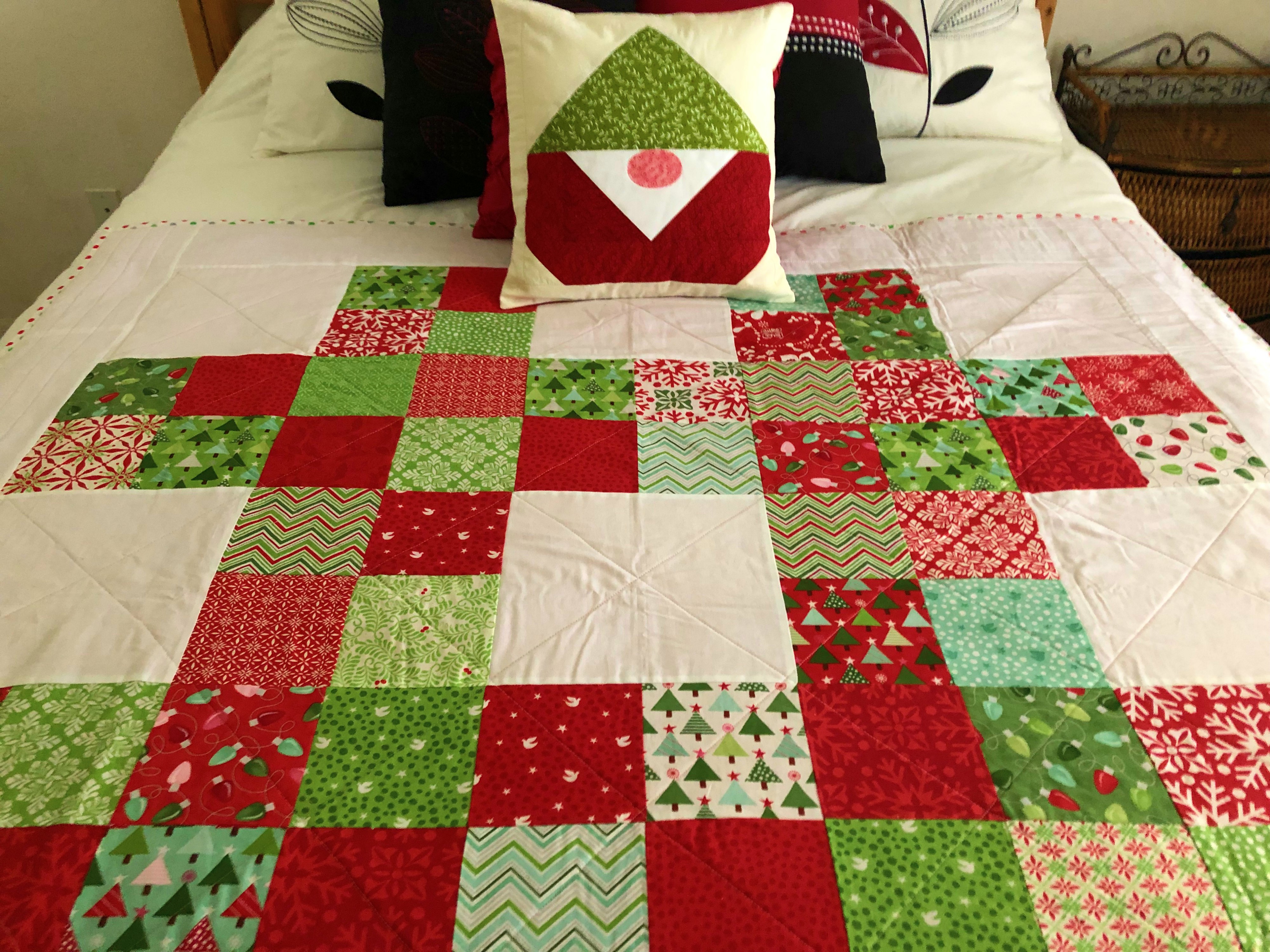 Christmas 2018 Gnome Pillow
For those of you who only have a 4 x 4 embroidery hoop – coasters are a quick gift to make. The tree coasters match the place mats I made for my daughter. I digitized the tree and holly designs .
Christmas 2018 Tree Coasters

Christmas 2018 QAYG-P Front
I will stop now for today….come back tomorrow I still have more to show you!
Linking to Linky Tuesday with Freemotion by the River.
Again, Happy New Year! I wish all of my quilting friends many blessings and lots of creative energy for 2019!