January 2016 APQ UFO Completion
I finished my January UFO on January 31 — how's that for waiting till the last minute! It's great following along with others participating in the All People Quilt 2016 UFO challenge. It's truly keeping me motivated to get projects finished!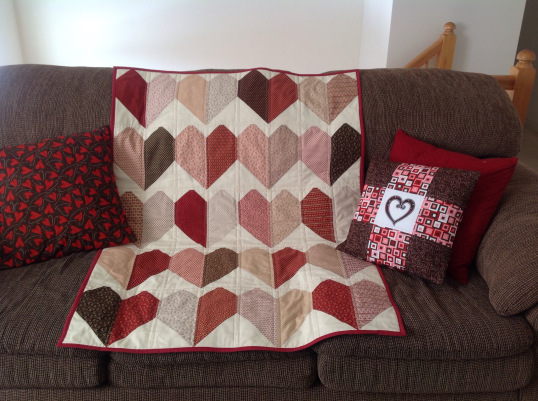 Jan 2016 UFO-Paper Hearts
This was the 2015 Paper Hearts Quilt Kit from the Fat Quarter Shop. The kit featured The French General fabric line – Petite Prints.
This was my first attempt at making a quilt! I hadn't perfected my quarter inch seam nor had I learned the secret how to not loose your points while sewing.
Originally I planned to take it apart but I've since learned from the wonderful Julie from The Crafty Quilter – finished is better than perfect!
My quilt measures 36 x 48. I quilted straight lines a quarter inch away from each seam. I love the fabric!
Using the half square triangle scraps from the paper hearts quilt I made a wall hanging measuring 17 x 21. Again I did straight line quilting — only in the background area. I really love how the wall hanging turned out and I'm really enjoying seeing it in my dining room.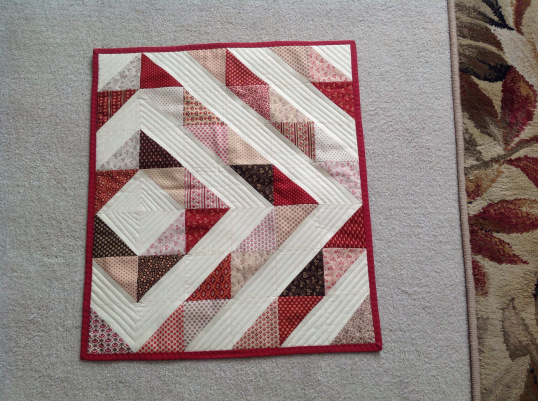 Jan 2016 paper hearts hst scraps
Of course I purchased a charm pack to match the quilt kit 🙂.
Last weekend I pieced this table topper. I used a patterned named Steps from the Strip Savvy book by Kate Henderson. If you are a newbie to quilting like me and are pre cut junkie also like me — this is a great book. I want to make everything in it! Last week JoAnn Fabrics had the quilting books 40% off which made it a great deal also.
Jan 2016 Steps Table Topper
I will have it quilted and bound sometime tomorrow — I need it for my superbowl snacks!!
I went a whole month without buying any fabric– Going thru my scraps I found a couple of pieces to make pillows to match the quilt. I think they are from an old Sandy Gervais fabric line. I added a little machine embroidery to jazz up the nine patch pillow — cute cute cute!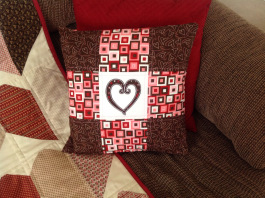 Jan 2016 quilted pillow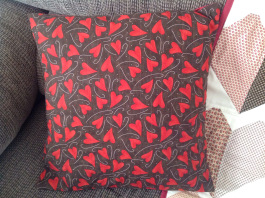 Jan 2016 quilted pillow
Last pillow for the month — 18 inch pillow using the XO quilt block (road to Arkansas). I used two fabrics and love the secondary designs it creates.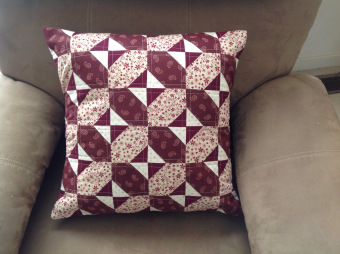 Linking up with Julie – the Crafty Quilter
Until next time live love and sew!