Halloween Hexagon Table Runner
Creating a simple quilted table runner is quick and cute way to dress up a dining room. My goal starting this month was to make at least two new table toppers each month.
I fell in love with a pattern in the MSQC Winter 2015 Block magazine named "Honey Do". The sample quilt was made with a Moda layer cake named Mixologie by Studio M. The quilt layout is very modern and the prints and colors from Mixologie are perfect.
I just love the prints – the apricot and aqua are yummy – don't you agree?
Mixologie – Studio M
The "Honey Do" quilt pattern makes use of half hexagon template; an item I didn't have any experience using.
I didn't want to ruin the layer cake so I did a trial run and made a Halloween table runner using the half hexie template from MSQC.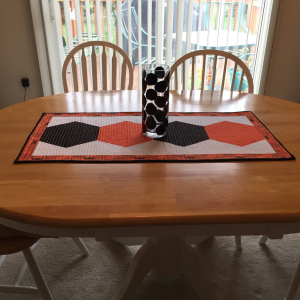 Hexie Orange Black
Using the template was easy and the pieces aligned nicely making the stitching perfect. The orange black color combination is striking I adore how this table runner turned out. I've added orange and black glass beads to the vase and it looks really good!
The table runner measure 17×36, I used a rayon thread for the straight line quilting. The fabrics are from my stash.
runner 1 oct 2015
Until next time live love and sew!