October Decorations
I admit I'm not a big Halloween decorator, I love decorating for fall but I've really enjoyed making a few simple Halloween projects to throw in the mix – nothing scary just really cute. I'd like to share them with you.
Sticking with my goal of creating a new table runner each week.
Remember my orange black hexie table runner? Below are the matching mug rug/coasters – aren't they cute!!
runner 1 oct 2015
periwinkle mug rugs/coasters
periwinkle coaster
October 2015 week 2 table runner I've named Boo Scraps! Using a variety of Halloween scraps cut in various widths; I made this with the quilt as you go technique. The runner measures 14 x 42. Boo Scraps was quick and easy to make – very relaxing. It also gave me the opportunity to use my Clover Mini Iron. I wasn't sure it would be effective with both fabric and batting; I was quite pleased.
Boo Scraps TR
2015 Boo Scraps TR
October 2015 week 3 table runner – "Black Cat Granny Square". I love how the layout of the Granny Square has the plus/cross sign in the middle. I used a tutorial written by sewhappygeek to create my runner. The tutorial uses 5 inch charm squares. I added top and side borders. I love the diamond grid created from the straight line quilting.
Topper measures – 24 inch square
Quilting – random straight line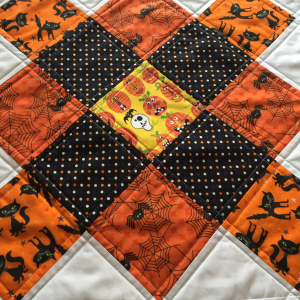 Black Cat Granny Square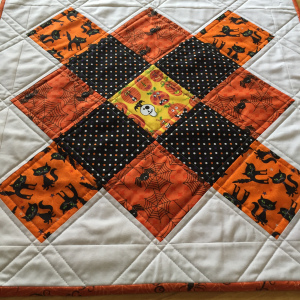 2015 October Black Cat Granny Square
October 2015 week 4 table runner – Witch Hazel Diamonds. This table runner once finished will be a gift for someone special. I used the summer in the park tutorial from MSQC. Another fun and easy project. I will update again once finished.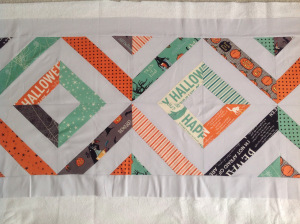 2015 October Witch Hazel Diamonds TR
October 2015 week 4 table runner 2 – Orange Black Spider Web. This mini quilt was by far my favorite project this month. I used 4 triangles for each 12 inch block – 16 in total to create the table runner. I love the orange black color combination and have lots of scraps to indulge my fancy. I was aiming for a controlled scrappy look – all of the strips were 2.5 inches wide. I used a paper foundation piecing technique, super easy. Tutorial for the spider web block can be found here. I will update once finished.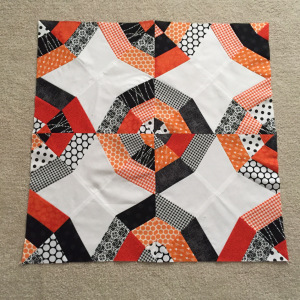 2015 October Spider Web Mini
Until next time – live love and sew!