Charming Halloween
I have an obsession with charm packs! I am constantly buying them. Charm packs are inexpensive and a great way to see all the fabrics in particular line.
I'm always amazed with projects others have created using charm packs. In my stash I found two Moonlight Manor charm packs by Deb Strain for Moda — perfect for this Halloween season.
I love having a quilty throw on my couch. I used one of the moonlight manor charm packs to make this coin quilt. The quilt finishes at 32 x 38 inches, since it's so small it serves as decoration mostly would make a great baby quilt. Coin quilts are perfect for charm packs.
ML Manor Coin 2015
Moonlight Manor coin quilt
I did random straight lines for the quilting – I do love the bright orange, green and purple colors. The border and backing fabrics I found at Hobby Lobby and they match perfectly.
With the remaining charm pack I made a dresden plate pillow. What a wonderful way to get a "controlled" scrappy look! One of the techniques I learned in my Craftsy course was creating radiating lines using the walking foot. You can really see the quilting lines in the second picture.
Moonlight Manor Dresden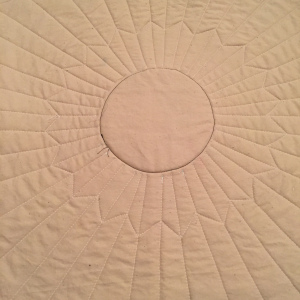 Dresden radiating quilt lines
Pillows are a great way for me to practice skills. Below are a few I made during the month of October.
Plus Sign — 18 x18 pillow
Orange Black Plus Pillow
Plus Pillow Close Up
Plus Pillow Quilting
Chevron Skull Pillow – 18 x18
Skull Chevron
Skull Chevron Close Up
Batty Colorado Block — 20×20 pillow. I really love how the pinwheel pops against the black fabric
Batty Colorado Pillow
Ghouls Just Want To Have Fun – 12×16 pillow made entirely with my embroidery machine
Ghouls Fun
My final October project — my Boo Star door hanger
Boo Star Door Hanger
Happy Halloween — until next time live love and sew!