Christmas Projects and Sampler Update
I was able to work on more of my hst sampler blocks on Sunday.
Block 4 : Friendship Star – another fun and easy nine patch block!
HST 4 -Friendship Star
Block 5 – Shoo Fly – a very traditional quilt block made modern with the fabric selection. I think this block also works well with large prints. I'm drawn to large prints so I'm happy to have a found a couple of blocks to use.
HST 5 – Shoo Fly
Block 6 – Mill Wheel – this was another challenging 16 patch block for me! I applied what I learned while making the morning star block and didn't have to rip out any stitches — YAY!! I find that pressing my seams open really help me keep the block flat and seams lining up.
What works for you?
HST 6 – Mill Wheel
I love dressing up my dining room table with a quilted table runner! They add quick color and style to my oh so drab table 🙂
My hope/plan is make a few table runners as gifts for family as Christmas gifts this year.
After working on the sampler blocks I was able to make this half hexie Christmas tree table runner for one of my SIL. I followed this tutorial from MSQC — it was SEW easy to make. I love the fabrics — I used one of the decorative stitches to quilt it — I wanted something to resemble garland hanging on a tree branch. I still need to bind it — I want to have ready to mail by December 1.– at least I'm off to a good start 🙂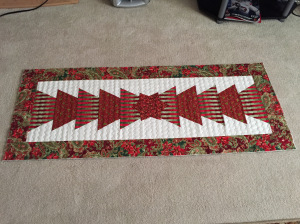 2015 Half Hexie Christmas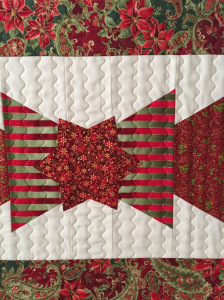 Half Hexie Xmas Tree CU
Half Hexie Xmas Tree Runner
Until next time live love and sew!