Catching Up
I hope everyone who celebrates Thanksgiving had a blessed and enjoyable day! We traveled to Texas to spend turkey day with two of my kids. I was grateful to spend time with them and their friends.The greatest blessing for me this year was not cooking 🙂
October thru December is the extra busy season in my Etsy Shop so I haven't taken the time to write about my recent quilty projects.
I gifted the ladies in my bible study group a hot pad and potholder for Thanksgiving. I love machine embroidery!
I did manage to piece this wall hanging in November. This beauty was made completely with fall colored orphan charm squares.
The wall hanging is 4 maple leaf quilt blocks without stems. I arranged the blocks so that the "stem" would go to the center creating the blank area for the embroidery. The charm squares are leftovers from previous projects. The print pieces are from two of Patrick Lose collections; Basically Patrick Sunflower and Lily's Garden. The background pieces are from the Ivory Basic collection by Windham Fabrics. When I need something scrappy that reads white or cream it's my go to fabric line.
I'm very pleased with the layout — I like the star the patchwork creates. The wallhanging measures 28 inch square. Hopefully I will have it quilted before fall next year!
Our host and hostess for Thanksgiving dinner are big big University of Alabama football fans. I had a 8×22 inch remnant of fabric from a custom order with the Bama logo so I made them a set of four 6 inch coasters.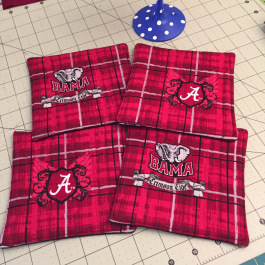 I am super pleased with how they turned out — I had to test them first!! I used both a layer of insulbrite and a layer of cotton batting. The insulbrite beneath the front piece made a huge difference.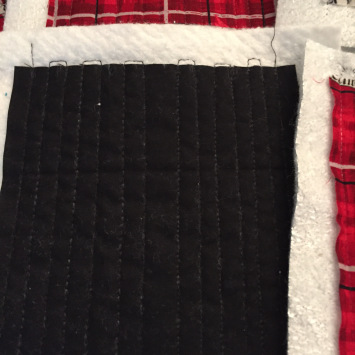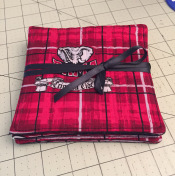 Until next time — live love and sew!