Work In Progress – Wednesday
I've been spending time going through my fabric containers making a list of projects I can realistically start/finish before we move in June.
I came across these six petal blocks I'd made sometime last year.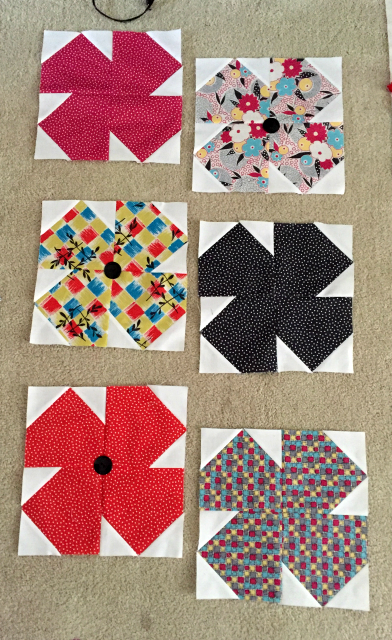 Gardenvale Petal Blocks
I decided these would make a great table runner. The fabric is Gardenvale by Jen Kingwell for Moda. The prints are funky, modern and retro and the colors are beautiful. I used ten inch squares cut into four – 5 inch squares with 2.5 inch squares to create the diagonal corners which gives each block the the petal look.
Gardenvale Table Runner
Needless to say I thought I was done! I was going through one of my large drawers that I keep supplies for my Etsy shop and found 3 more petal blocks — do you ever misplace quilt blocks?
I figured nine block would make a great wall hanging, and I really need bright spot in my sewing room. Adding the three additional blocks created a new problem – I didn't have anymore of the fabric I'd used for the cornerstones. I found a scrap Cotton & Steel jelly roll strip in black that matched.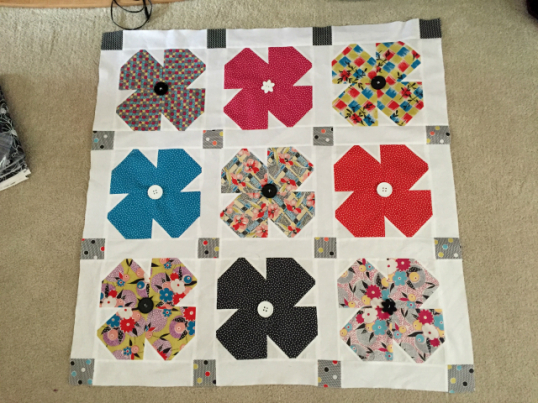 Gardenvale Wall Hanging
Now — I guess I will remove and remake the bottom row of sashing using the Cotton and Steel fabric and my sense of balance will be restored:)
I truly hate ripping out stitches!
If you would like to make a similar table topper or wall hanging Allison Harris with Cluck Cluck Sew has a great tutorial name Floret Table Topper.
Thanks for stopping by!