First Finish of 2017
It feels great to have something checked off my to do list!
I still consider myself a quilting newbie so I don't have lots of UFO's – instead I have lots of fabric with magazine clippings or handwritten patterns attached. I am participating in the 2017 All People Quilt UFO challenge , using the chart provided to list my project goals for 2017.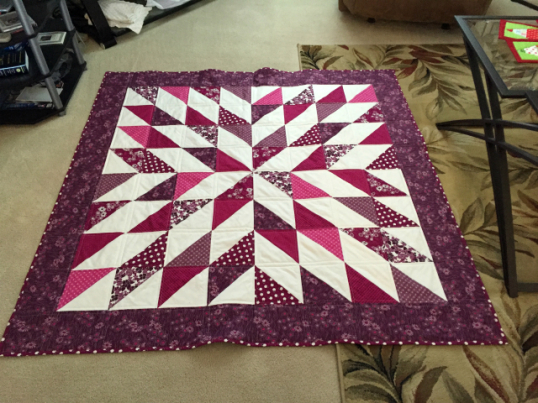 Purple Starburst
My youngest son lived in NYC for a few years and became friends with the sweetest young woman named Kim. She quickly became my friend too?
Kim graduated from Northwestern University whose school colors are purple and white. When I saw the Jenny Doan Starburst tutorial I knew it was the perfect pattern for my V&Co Simply Colorful – Purple layer cake.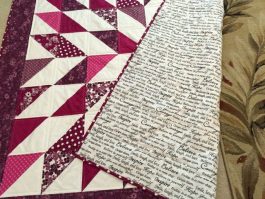 Purple Starburst 2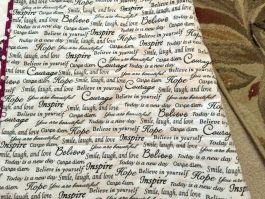 Purple Starburst Backing
I love fabric with text prints. I used Inspirational Words by Whistler Studios for Windham fabrics for the quilt backing. Seeing the words " Believe in Yourself", "Smile, laugh, love", " Today is a new day" are so encouraging!
The quilt measures 59 x 59 inches. I'm still not confident enough with my FMQ abilities so I did straight line quilting with my walking foot.
Finished and mailed!! YAY!!
I'm linking up with Lindsey of Fort Worth Fabrics and her Fabric Frenzy Friday.
Thanks for stopping by!