Happy New Year
Hello Friends – Happy New Year!
I wish many blessings to you and your family throughout 2017.
I had a small medical procedure last Friday and yesterday was the first day I was able to sew again!!!
In my household we are at 75 days and counting to the day my hubby retires. He likes to leave notes for me that read "DOWNSIZE" — he evens texts that message to me? Our new house is smaller than our current house so I'll need to adjust. Good news is my sewing room in the new house is larger but I will loose the storage area I currently have.
As I sort through my many containers of fabric I realize I need an extra dose of motivation (deadlines)to get projects started and finished to achieve my forced goal of downsizing.
Normally my New Year's Resolutions are goals I set for my Etsy shop, this year I've decided to include my quilting projects in my 2017 resolutions.
I'm following along with Abigail Dolinger's 2017 Pre-Cut Challenge. I am definitely a pre-cut junkie so this challenge is perfect for me! The first quarter challenge is to use quilter's candy (2 1/2 inch squares) or fat quarters to create a quilt. I'm starting with two quick small projects to get myself moving.
January Challenge Moda Candy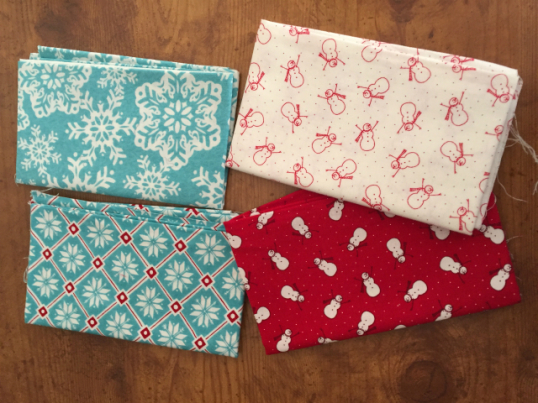 Jan 2017 FQ Challenge
I 'm using Moda's candy Color Theory by V & Co to create a color block table runner. I plan on making a banner for my front door with the fat quarters.
"One Monthly Goal" hosted by Patty with Elm Street Quilts is my second challenge for this year. My January goal is to finish my snowball nine patch wall hanging and my version of Fat Quarter Shop – Layers of Charm Quilt.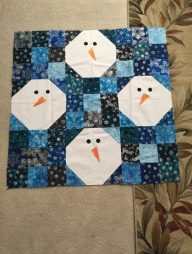 Snowman Wallhanging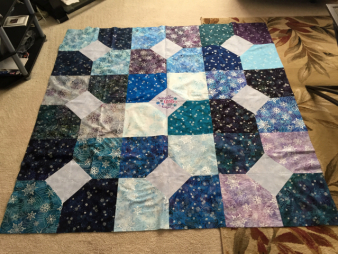 Layers of charm quilt
Thanks for stopping by!