A Well Dressed Table
Hello Friends – I hope everyone had a wonderful Christmas.
I love a well dressed table! Quilted table runners add quick color and style to my small but cozy dining area.
Table runners also make great gifts. Below are a few I made for friends and family this holiday season.
Wreath Table Runner – Easy charm pack project
Size – 16 x 52 inches
Pattern – Fons & Porter Quickly Quilting Winter 2013
Fabric – Kate Spain Solstice Charm Pack
Quilting – Random straight and radiant lines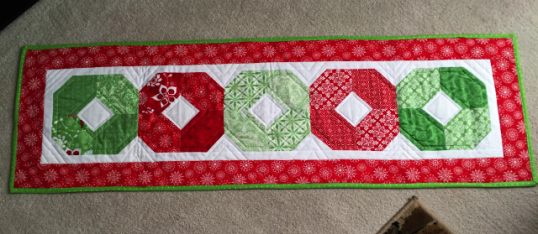 Solstice Wreath TR
Half Hexie Christmas Tree Runner – another easy and quick pattern by Jenny Doan with Missouri Star Quilt Company. This tutorial will get you started!
Size – 19 x 50 inches
Pattern – MSQC Holiday Tree Runner
Fabric – Hobby Lobby Christmas Fabric
Quilting – Walking Foot – decorative Stitch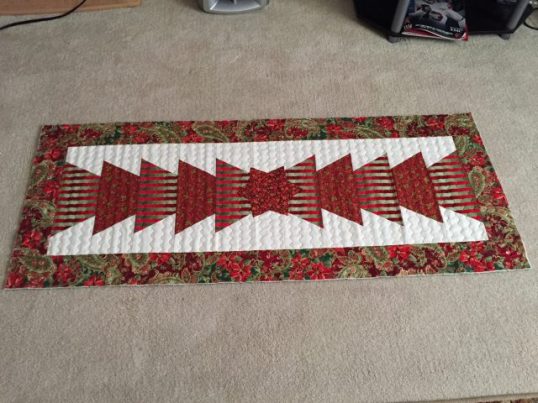 Half Hexie Xmas TR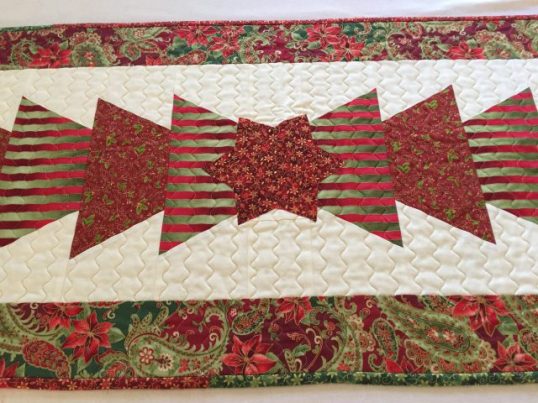 Patchwork Star – Simple charm pack patchwork table runner. A single star is created within the layout using the stitch n flip (diagonal seam) method.
Size – 19 x 38 inches
Fabric – Holly's Tree Farm by Sweetwater for Moda
Quilting – Walking foot – echoing seams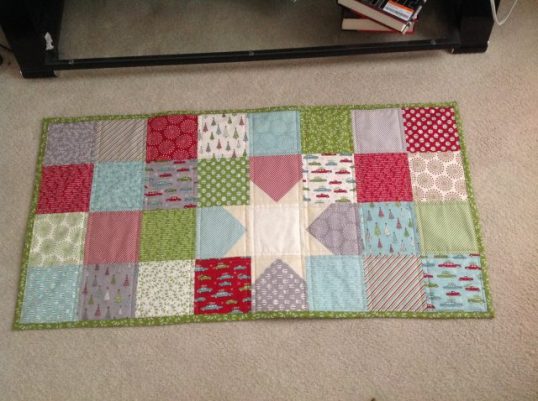 Patchwork Star TR
Penguin Pinwheels – I believe this was my favorite table runner this month! The red and aqua is so bright and cheery and the penguins are just too cute ?
I used the Simple Pinwheel tutorial by Abigail Dolinger. I used yardage for my table runner, the pattern however is jelly roll friendly. This was a quick and easy – I will definitely use this pattern again.
Size: 23 x 38 inches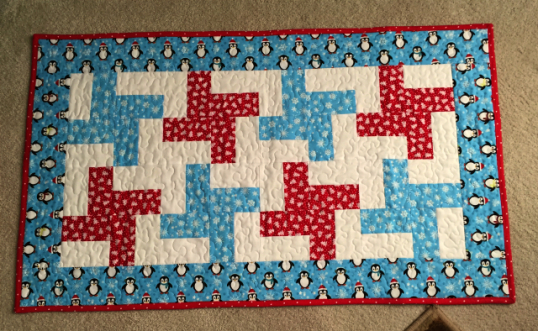 Penguin Pinwheel TR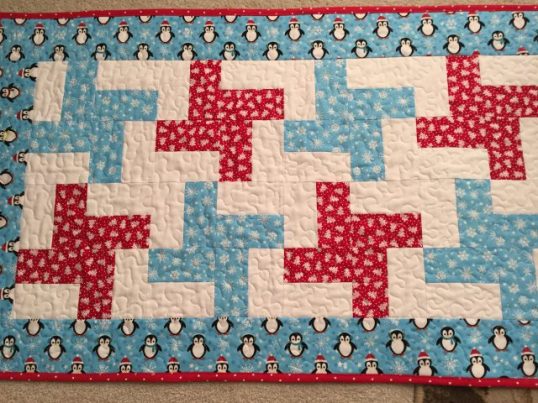 Penguin Pinwheels
I am linking with Fort Worth Fabric Studio – Fabric Frenzy. Lindsey always offers a cool fat quarter bundle with an inspiring project.
Thanks for stopping by!