Hashtag Merry Christmas
Hello Friends — Merry Christmas and Happy Holidays to you and your families.
I'm not a big social media participant, I do enjoy following certain "hashtags" on Instagram to see quilt projects.
I signed up for Camille Roskelley's Craftsy Class: Pre-Cut Piecing Made Simple, where she teaches you how make a hashtag quilt using a jelly roll and yardage. Pattern seems to be quite simple and the visual instructions are super terrific.
I needed/wanted a Christmas quilt but didn't have a Christmas jelly roll on hand, instead I had a couple of Kate Spain's Joy and Solstice charm packs and decided to make a super sized hash tag — although at my age I call it a number sign?
After sketching it out on graph paper this is what I came up with. Quilt measures 56 x 56 inches.
Hashtag Super Size
Fleece is a fabric that has a pile and can be found mostly in sports wear and jackets. I've sewn with fleece in the past making sweat pants, scarves and blankets. I find it a joy to sew with because it doesn't fray and stitching mistakes don't show ! Because of my blanket experience I thought I would try fleece as a quilt backing. We are moving to Florida in a few months so I decided to not use batting with the fleece.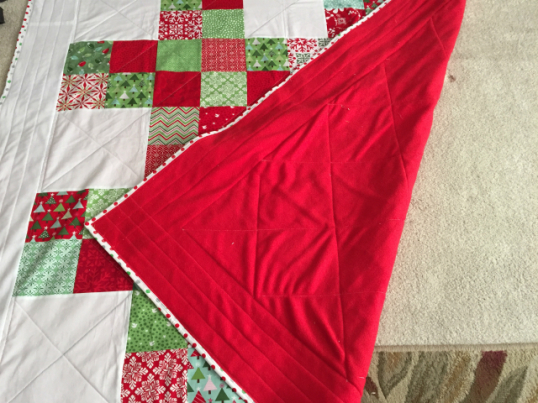 fleece backing
Here's a quick tutorial if you would like to make a Super Sized Hashtag Quilt for yourself.
For a 56 x 56 inch quilt – 5 x 5 setting
Fabric:
2 charm packs (5 x 5 inch squares) you will use 64
2 yards of background fabric (will have plenty left over)
1/2 yard for binding
2 yards fleece (60 inches wide) for quilt back
Cutting
Background fabric – WOF = width of fabric

3- 9 1/2 x WOF strips – sub-cut into nine (9)- 9 1/2 x 9 1/2 squares
6 – 5 1/2 x WOF strips for borders

Binding fabric
Assembly – all seams are 1/4 inch
arrange and sew the 64 five inch squares into sixteen (16)- 4 patches; completed 4 patch block should measure 9 1/2 inch square.
Arrange by row as follows: B = Background 9 1/2 x 9 1/2 square 4 = 4 patch square

Row 1 – B 4 B 4 B
Row 2 – 4 4 4 4 4
Row 3 – B 4 B 4 B
Row 4 – 4 4 4 4 4
Row 5 – B 4 B 4 B

Sew together blocks in each row. Press seams open.
Join rows together. Press seams open.
BREATHE – quilt center is finished?
Borders

cut 2 of your 5 1/2 inch x WOF strips in half.
Sew one of the half pieces to the ends of each of the four (4) remaining border strips.
Attach the left and right side borders to your quilt center; trim extra fabric on ends
Attach top and bottom borders to your quilt center; trim extra fabric on ends
Starch and press quilt top

Layer, Mark & Baste

Lay fleece backing right side down
Lay Quilt Top right side up on backing
I used masking tape to create diagonal lines that formed an "X" through each block. If you are unfamiliar with using masking tape as a quilting marking tool I recommend watching this video by Leah Day.
Pin base with safety pins ( or your preferred method)

Quilt

I used my walking foot to stitch along side the masking tape.
In the borders I did straight line quilting in random widths

Binding

Join your seven (7) strips of 2 1/2 x WOF
bind using your preferred method — I prefer machine binding and this is the tutorial I use.
I use my hashtag quilt as throw for our couch — of course I had to have matching pillows!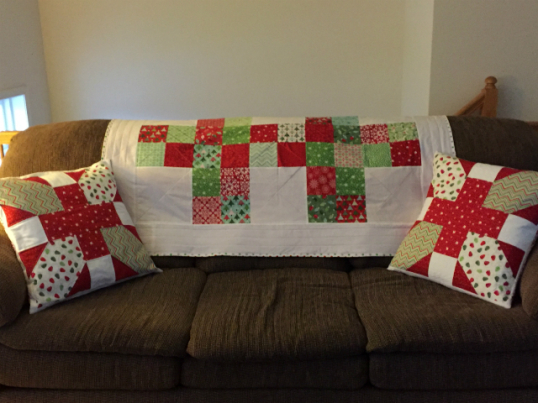 2016 Hashtag Charm Quilt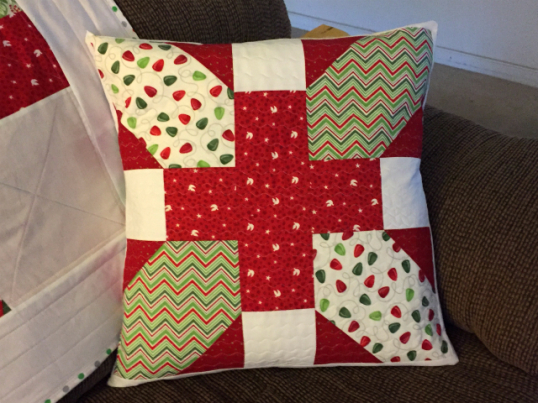 X Plus Quilted 20 inch pillow
Using Amada Rolfe's you tube tutorial for the X Plus Quilt Block as my inspiration, I made two 20 inch pillows. Now I'm set for binge TV watching — gotta get caught up on my shows!
Thanks for stopping by!