Paper Pinwheels Quilt
We've been traveling the past 12 days spending time with the grand kids in Indiana. It was heavenly but also good to get home and get another project completed.
I consider myself a transitional quilter — half the time I love the look of modern designs and the other half of me is in love with more traditional designs.
I am always extra excited when I come across a pattern that takes a modern twist on a traditional quilt block such as Fons and Porter's Paper Pinwheels pattern from the September/October 2015 Quickly Quilting magazine.
I'm sure I own fabric from each of Moda's Zen Chic collections since 2012 with an abundance of the Modern Background – Paper line, which was used in this pattern.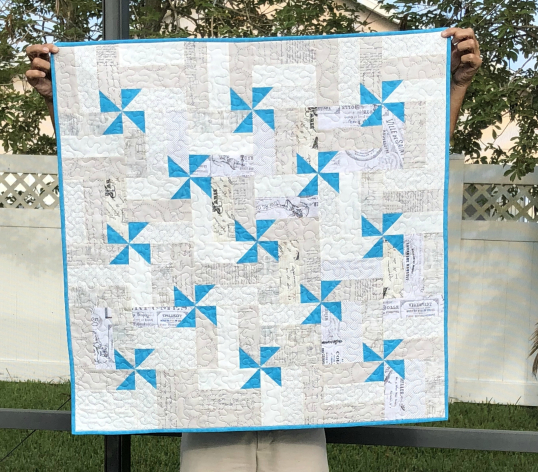 paper pinwheels 1
The Kona cotton turquoise pinwheels really pop against the neutral low volume text background fabrics. I modified the pattern to make a baby quilt or wall hanging. I used a turquoise tonal print with dragonflies on the back.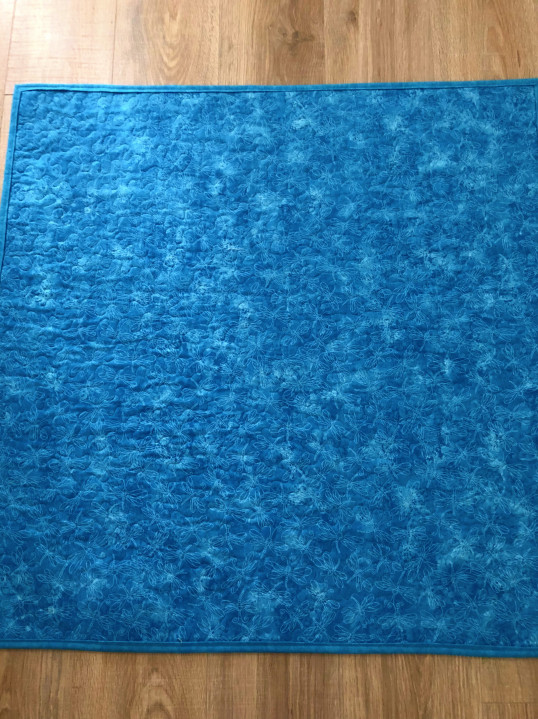 paper pinwheels back
I'm loving the diamond shape secondary design created from the layout. My quilt measures 36.5″ x 36.5 inches. I used the same Kona turquoise for the binding and really appreciate how it really frames the quilt. I used an allover meandering stitch for quilting.
Hope you were able to get some sewing in on this wonderful Thursday!
Happy Sewing!