Feeling Fall
Happy Monday!
I love fall! I love the rich palette of colors from sunflowers, leaves, mums, and pumpkins!
I've had making a pumpkin quilt or table runner on my to do list for quite awhile. I was delighted to find several great patterns to inspire and motivate me to sew. This year I finally can check pumpkin off my to do list ?
This first table runner I made using Amy Smart's patchwork pumpkin tutorial found here. My wonderful daughter in law is kind enough to display my quilty gifts in their home. I used soft orange cotton prints and grey linen as the background to match their decor. The tutorial was well written making it a quick project to complete, I even got to practice stippling! The runner measures 15 x 57 inches.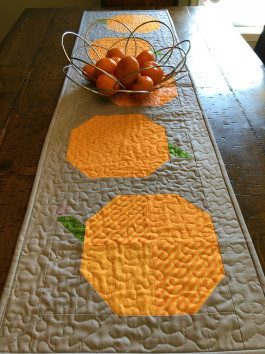 patchwork pumpkin table runner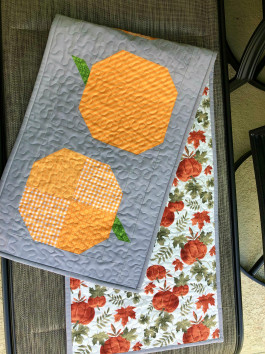 patchwork pumpkin tr 3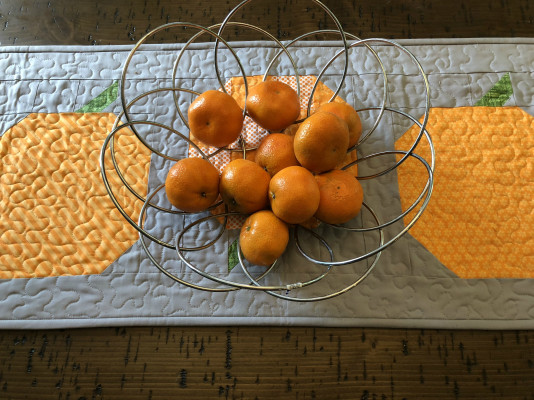 patchwork pumpkin tr 2
One of my favorite blogs Freemotion by the River hosted by Connie shared a pumpkin quilt block tutorial on September 17 and I made mine the same day. Connie loves batiks as much as I do so I made another table runner using batiks ? You can find the tutorial here. Connie has lots of wonderful projects on her site and her directions are well written with lots of pictures. My runner measures 14 x 30 and looks great on my coffee table.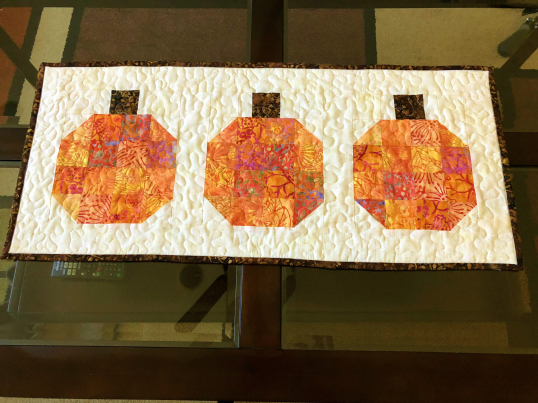 pumpkin batik table runner
Using Connie's basic layout I came up with a couple of projects on my own.
Mini Quilt – White Pumpkin and wonky star with a little embroidery! Mini quilt measures 11 x 13 inches. Not crazy about my leaf design but it will do for now.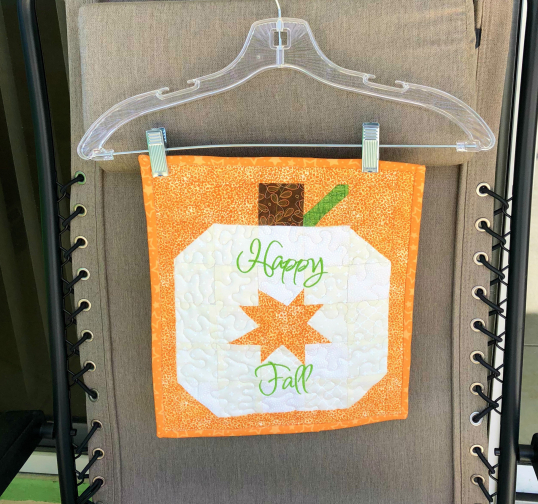 pumpkin – wonky star mini
Mini Charm Pack Pumpkin Placemat – my goal was to create a 12 x 18 placemat. I like the pumpkin shape using Sandy Gervais' Hello Fall mini charm pack and happier with this leaf design. I don't like the cream background fabric — looks plain. What do you think? I'll probably take it apart….but once I get it together I plan on writing a tutorial to share.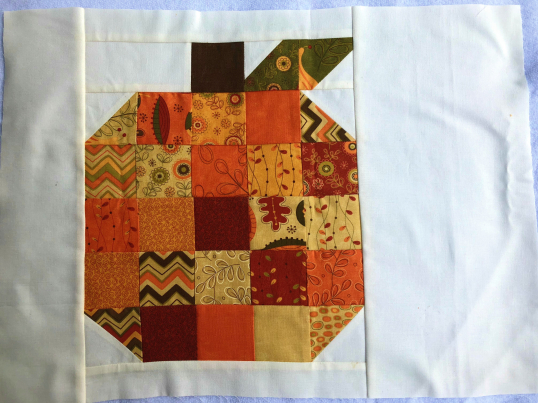 pumpkin – placemat wip
Thanks for stopping by and letting me share my pumpkin obsession!
Linking with Beth from Main Crush Monday — be sure to stop by to see what others are creating!