Jumbo Churn Dash
I was reading a few online articles discussing what makes a quilt modern. I'm drawn to modern quilts for their use of walking foot quilting, straight line quilting, impact of using solid colored fabrics and piecing using geometric shapes.
I found a website GenX Quilters where I found a series of tutorials for traditional quilt blocks made modern. One of the blocks was the churn dash — a very easy beginner friendly block.
Seeing Anne Marie's layout reminded there was a churn dash quilt pattern in Camille Roskelley's book Simply Retro that I wanted to make.
The quilt measures 36×36. I've used fabric from my stash. A contemporary print to give the block a modern look – I'm hoping my daughter will like it.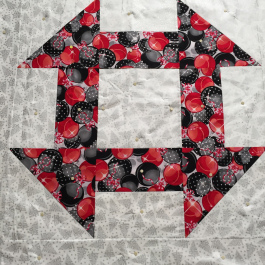 2015 Christmas Churn Dash
I'm using straight lines to quilt it, but I'm planning to use the techniques I've learned in two of my free motion quilting classes on Craftsy.
Leah Day is a big believer in stitch in the ditch to stabilize before FMQ — so I've completed that step. Elizabeth Dackson offers several FMQ straight line techniques in her class. Both instructors recommend creating a diagram and/or marking the quilt if you're not comfortable to just "go for it". Here's my plan — I've marked the center block – hopefully you can see it.
Until next time – live love and sew!