Fast Easy Layer Cake Quilt
One of the quilt patterns on my to do list was the Layer Cake Lemonade; this quilt pattern is also from the Fat Quarter Shop short cut quilt series.
A friend asked if I could make something quick for her grandmother to use at the nursing home while she sat in the activities room. Her only requirements were:
fabric had to be bright, cheery, and floral
toddler size – something to throw over her lap
perfection – optional ?
We had our conversation on Tuesday and she wanted the quilt before her Saturday visit.
Digging through my totes I found my Fresh Air Moda layer cake. Fresh Air is a 30's reproduction print in very bright and pastel florals.
On my pattern to do list I had noted that the layer cake lemonade didn't require any background fabric – which made the pattern selection a no brainer.
I had the quilt top finished Tuesday evening. Deciding which prints to use took more time than the actual cutting and stitching.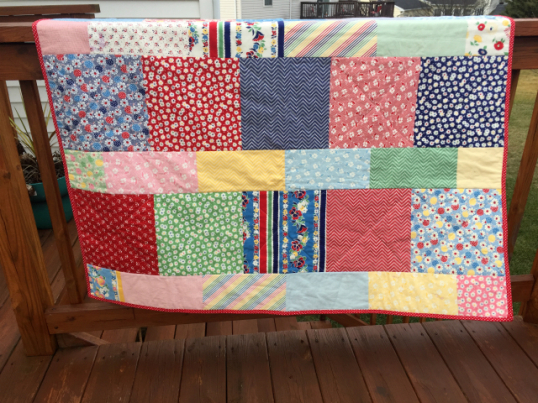 layer cake lemonade feb 2017
I used muslin for the backing with a bamboo cotton blend batting. Simple quilting with my walking foot. Quilt measures 48 x 62 inches. Third finish for 2017!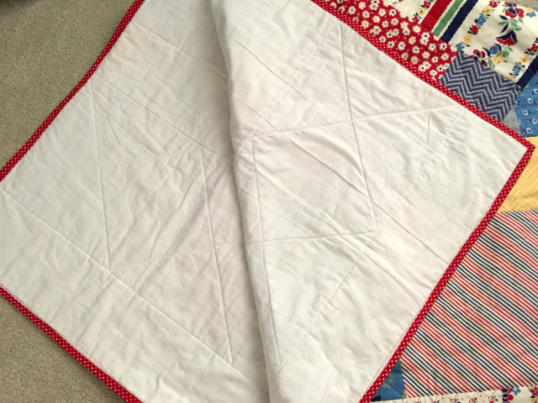 layer cake lemonade back feb 2017
Thanks for stopping by!