Halloween Doodle Quilt
I love Fall! October being my favorite month with the color combination of orange and black being at the top of the list.
I needed a new throw in my office/tv room for the couch. I purchased a few really cute quick stitch Halloween embroidery designs from Embroidery Library last year and never got a chance to use them.
I wanted the throw to be simple, quick, show case the embroidery designs and most importantly made in black and orange fabrics. Although you can't see in the photo the black fabric is a tonal leaf pattern same as the orange.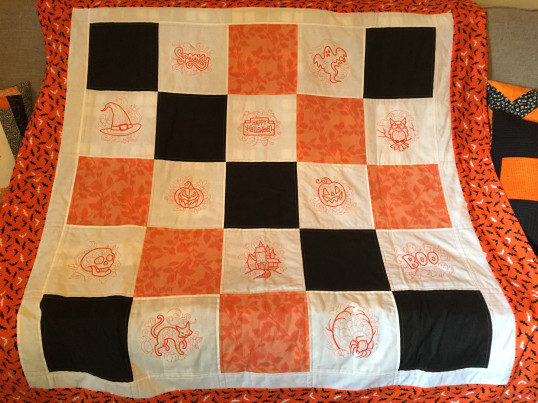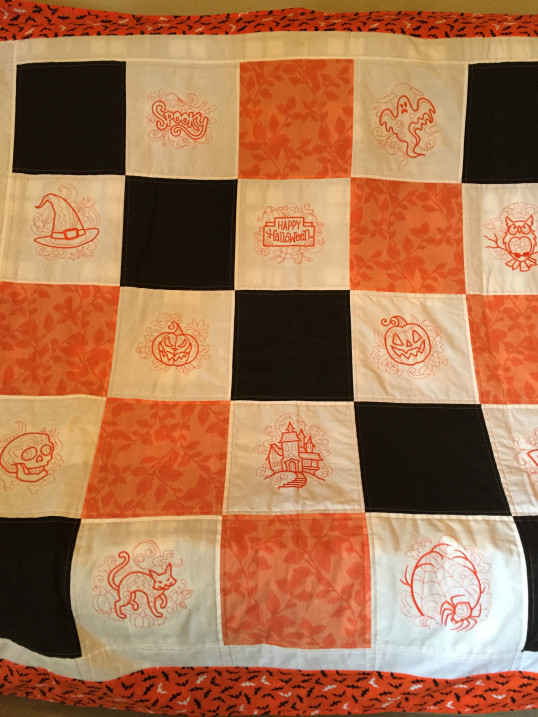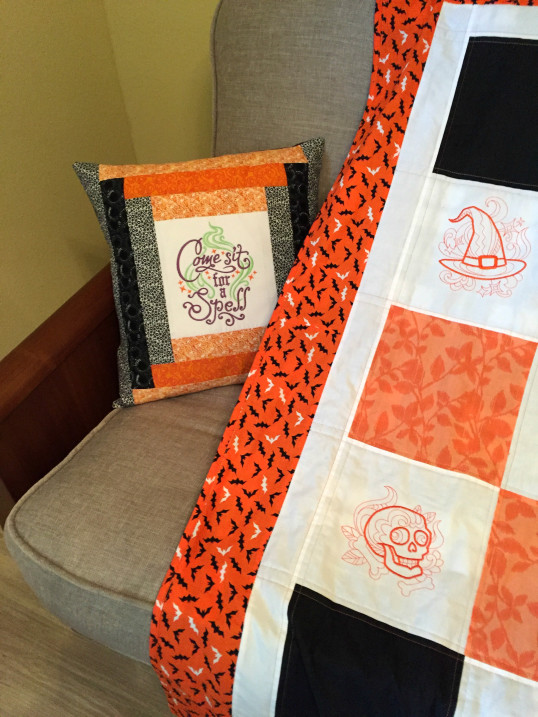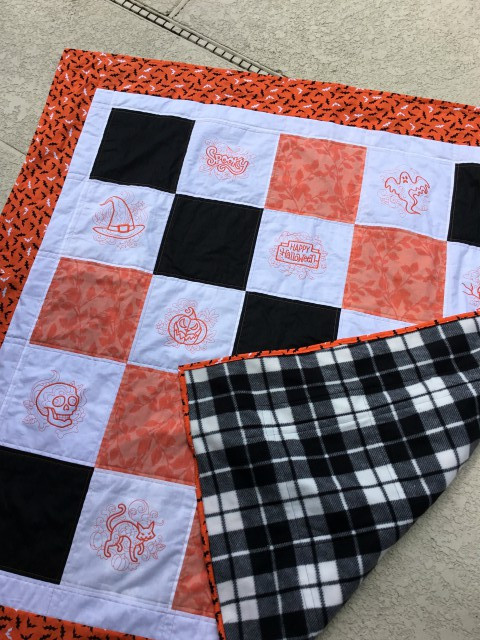 The quilt measures 52 x 52 inches. I'm so loving the black and white plaid fleece on the back. I didn't use any batting and the fleece was wonderful to work with. I used a Sulky variegated orange rayon thread for quilting on the top and Aurifil black as the bobbin thread. I used my home machine and stitched quarter of inch away from the seam lines. I machine stitched the binding to the front and back.
Every sofa throw needs a matching pillow!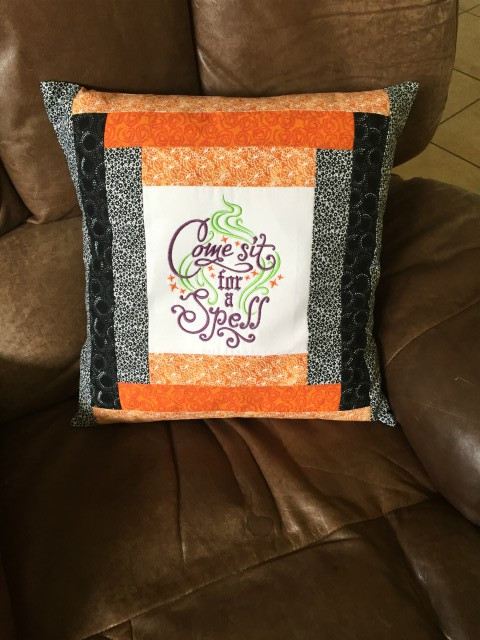 This courthouse style quilt block pillow measures 20 x 20. The embroidery design (also from Embroidery Library) was stitched on 8.5 inch square of Kona White cotton. I used 2.5 inch strips to create the logs. The backing is a simple envelope style.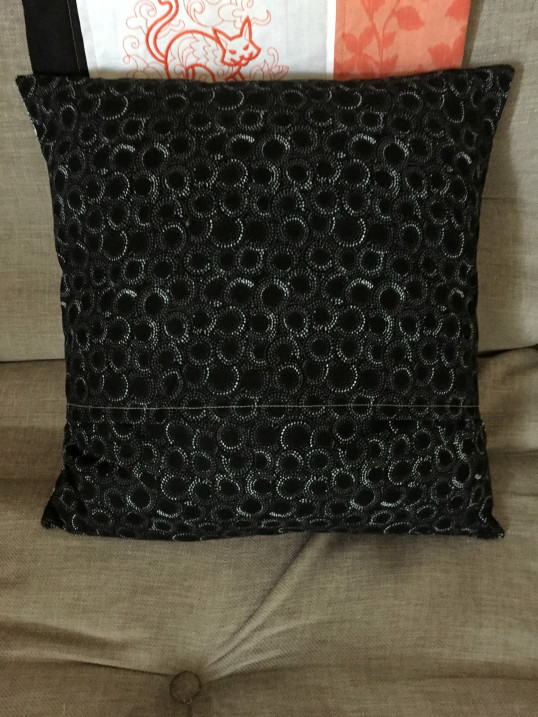 This Dresden quilt block used to be a pillow but I converted it to a wall hanging. I used a charm pack of Deb Strain's Midnight Masquerade. The wall hanging measures 21 x 21 square. The embroidery applique design (BOO) was purchased from Embroidery Library also.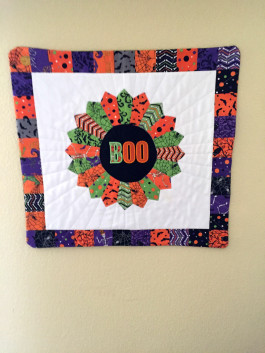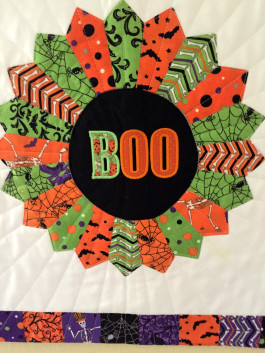 My office is completely decorated to finish out October!
During my packing/unpacking I found several rulers that I didn't even remember that I had! I'm slowing figuring out how to use use them.
First up : Creative Grids Spider Web Ruler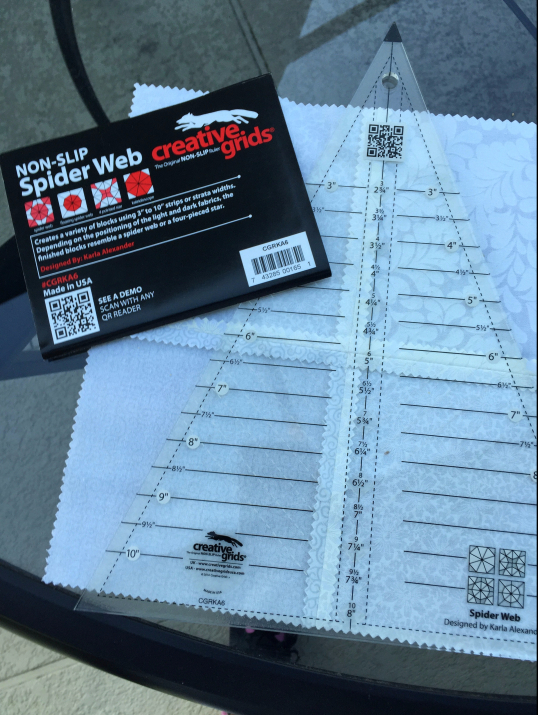 Creative Grids Spider Web Ruler
You can make 4 different style of blocks with this ruler in many sizes. My first test was a 4 point star.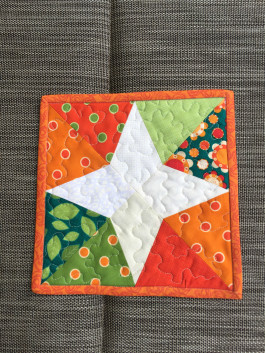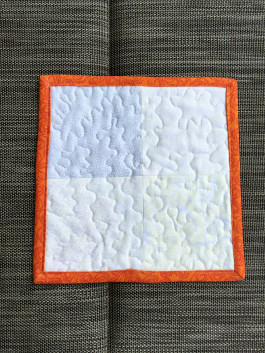 I used left over charm squares — To create the star ( 4 blocks) I used 12 squares. I found the written instructions to be more helpful than the video. I had to take apart a couple of times before I got it right. After I finally understood how to stitch correctly it was easy to put together. I'm looking forward to making something larger!
My finished size is 9 inches. I plan to use as a mug rug.
Until next time!