Churn Dash or Churn Dash ?
Hello and happy Wednesday!
I hope everyone had a great Thanksgiving! Relax time over; back to work for me!
I should use my free time to work on UFO's but what fun is that when starting something new is SEW exciting ?
On my list of quilt blocks to make is the Churn Dash – a simple classic pattern which has many variations and known by many other names such as hole in the barn door, monkey wrench and Lincoln's Platform, I'm sure there are many more names.
The churn dash quilt block pattern is a simple nine patch comprised of half square triangles, strip piecing and solid squares – quilting basics!
For me churn dash equals charm pack opportunity!
I used 9 charm squares (5 x 5 inch squares) to make one 12.5 unfinished churn dash quilt block. Using one Crazy for Red by Minick and Simpson charm pack I created 4 blocks. I love the barn red and tan color combination.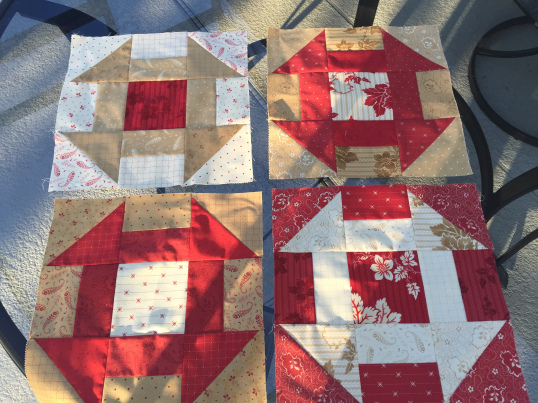 Crazy For Red Churn Dash
Not sure if I will turn the four blocks into a small table topper or create something larger. I have one more Crazy for Red charm pack plus a couple of French General favorites charm packs that are similar in color. I'll keep you posted!
As I mentioned earlier the churn dash has many variations. One of the blogs I follow GenXquilters.com has a section titled "Patchwork Auditions" where she offers different layout options for a few classic quilt blocks including the churn dash.
I was really intrigued with her "H" option for the churn dash. I printed out the coloring sheets, pulled out a few Kate Spain Solstice fat quarters and got busy!
The table runner below is 4 blocks using her "H" option.
Amazing — I can't believe its the same block! The secondary diamond design in the center is so cool. The entire layout has an overall "X" like look — I just love it!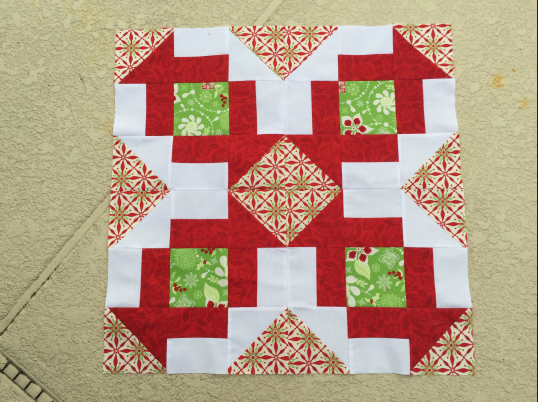 Solstice Churn Dash Variation
What do you think?
Until next time…