Happy New Year
Hello! Happy Friday and Happy New Year! I'm sure 2018 will be full of great and creative adventures for each of us. ?
Hubby and I had a quiet relaxing holiday, surprised to have cold weather here in Florida. I'm loving the cold without the snow.
I've been catching up with the blogs I follow. I loved reading the "year in review" posts. There are so many talented quilters out there who produce beautiful items, seeing their creative efforts make my heart smile.
My only resolution for 2017 was to not purchase new fabric unless I needed backing or binding to finish a project I was currently working on. Honestly, that worked perfectly for me! It kept me focused – downside I didn't get any new fabric ?
I'm thinking my plan for 2018 will be the same. I have the same three UFO's from 2016 that need finishing. I've been wanting to make a few items for our home and I need to make a quilt for my youngest son — that should take care of the BIG items on my to do list for 2018. Now that I'm semi-retired I'm hoping that I can get more accomplished.
Remember these scraps?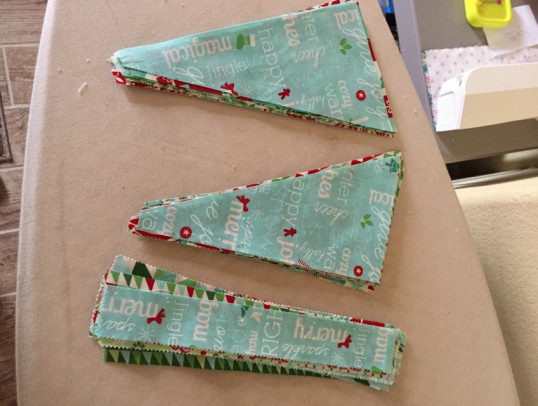 Jingle Xmas tree scraps
I cut them into 1.5 inch strips and created this log cabin wall hanging! Fortunately I did have it done before Christmas and proudly hung it my foyer. I so love the reds, green and turquoise! You can't tell in the photo but the white tonal print has an allover holly design. Because the scraps had an odd shape to them I did have to piece some of them together, the beauty of it — you can't tell!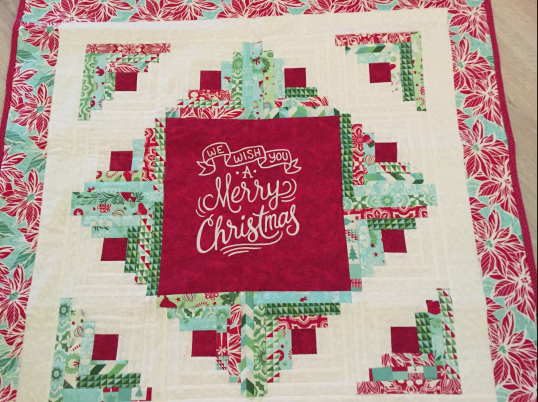 2017 Christmas Log Cabin CU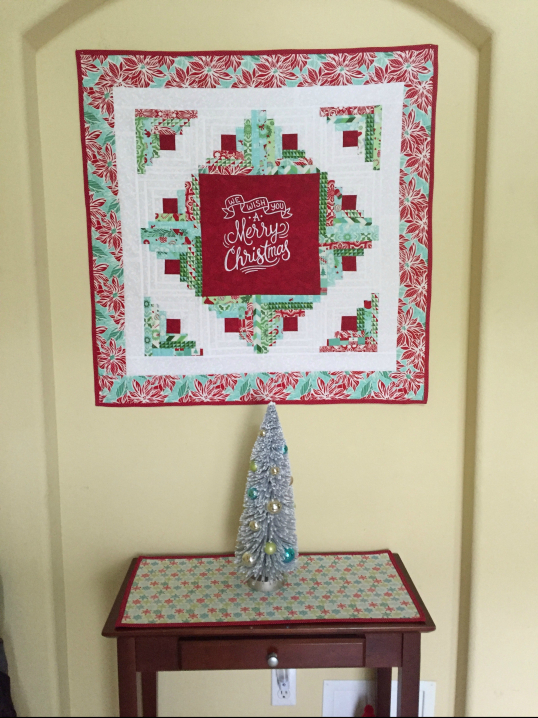 I used my Creative Grids log cabin trim tool. I know I'm a ruler/template fanatic but this tool was so worth the money! Each block was a perfect 6.5 x 6.5 square unfinished. The beauty of this ruler is squaring up after each round. Sewing was pretty quick once I cut the strips to length I needed. This particular version of the tool includes both 6 inch and 12 inch blocks. You can create log cabin blocks, courthouse steps and half log cabin quilt blocks. I was so impressed that I asked Santa to get me the curvy log cabin and the pineapple log cabin trim tools for Christmas.
My goal in December was to use up the Kate Spain Jingle layer cake. First was the modern Christmas Tree quilt, next the log cabin wall hanging. My third finish using the layer cake was a wonky nine patch wall hanging — sew cute! I used the Willy Wonky pattern from Fons and Porter Quickly Quilting magazine as my inspiration. I modified the layout from the pattern so I could include the tree applique blocks. Sorry for the blurry photo. This was a fun wall hanging to create and I will definitely use the pattern again!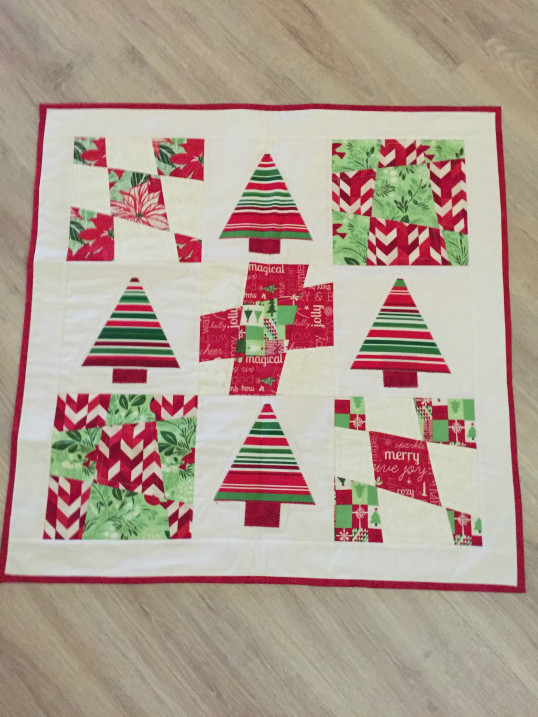 My fourth project using the Jingle layer cake and finish was a rag hexi wall mini quilt. Using the Creative Grids hexagon trim tool I was able to cut (3) hexagons from a 10 inch square. I used the smaller 3.5 inch hexagons for the hexi raggy Christmas tree. The edges around each hexi has been snipped; I haven't washed it yet to get the true raggy look.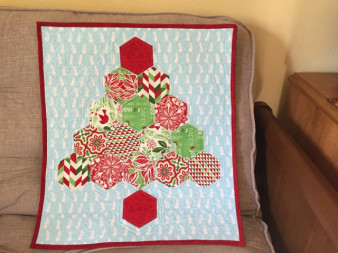 Jingle rag tree mini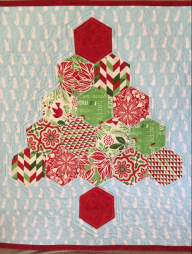 Jingle rag tree mini quilt
My fifth project – not finished was a table runner. I bought a few of the Moda Layer Cake Recipe packets. Using one of the layouts from recipe #2 I pieced this table runner. I loved the layout because I can add embroidery to the center of each block. I can't say enough about how much I enjoyed this type of paper piecing. Kudos to Carrie Nelson for creating the recipe booklets – if you like easy and have a layer cake on hand this is for you! Three practice sheets are included with each recipe booklet. The design I used you get two blocks with one 10 inch square of print and one 10 inch square of background.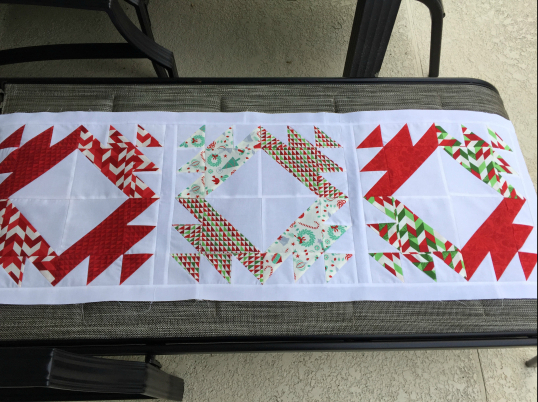 Jingle Cake Recipe 2 WIP
I still have 6 ten inch squares remaining from the Jingle Layer Cake — enough for at least one more project!
Again Happy New Year!
Until next time….