Christmas In July – Peppermint Pinwheels
Happy Monday!
After seeing so many inspiring projects in the many Christmas in July blog hops, it motivated me to finish my only Christmas PHD – Peppermint Pinwheels.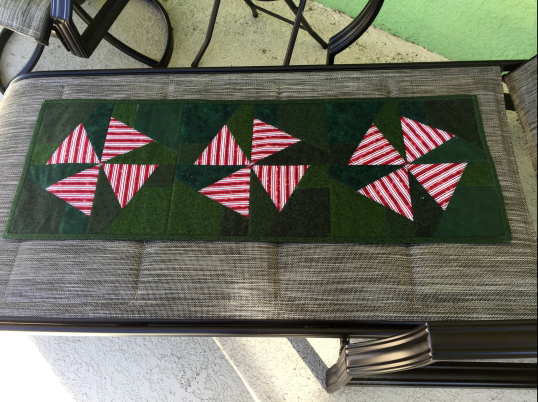 Peppermint Pinwheel TR
I used my Creative Grids Scrap Crazy 6 templates to create the table runner. Together the templates create a 6 inch finished block. One of the templates is a equilateral triangle, I used the stripe fabric with this template in each block, rotating four blocks creates the pinwheel. I used green scraps for the other templates to surround the striped fabric. Twelve blocks creates a 12.5 x 36 inch table runner.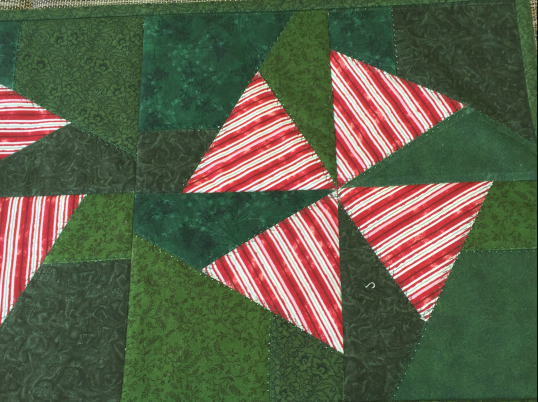 peppermint pinwheel cu
I'm so happy to have this table runner finished, and I'm happy with how it turned out, and even happier how quickly it was to put together. I created each block then used a QAYG method to finish it. I definitely will make this again to give as a gift.
Below are three projects I fell in love with during this past week Christmas in July blog hops and plan to add to my Christmas to-do list are:
Michelle from Creative Blonde – Christmas Stocking for pet dog
Wendy from Pieceful Thoughts – Christmas Tree Mini
Missouri Star Quilt Company – Christmas Tree Wall Hanging
Linking up with Main Crush Monday with Beth from Cooking Up Quilts.
Happy Sewing & Quilting