Friday- Finishes and Almost Finished
Happy Friday!
This has been a super busy sewing week for me. When time permits I try to make seasonal table runners for my daughter and daughter-in-law. I'll be seeing them soon so I got busy!
I love the simplicity of the Ohio Star Quilt Block. I used Fig Tree's All Hallows Eve fabric to make the 16 x 40 inch table runner. I added a small machined appliqued pumpkin with the text Live Love Laugh to the center of each block —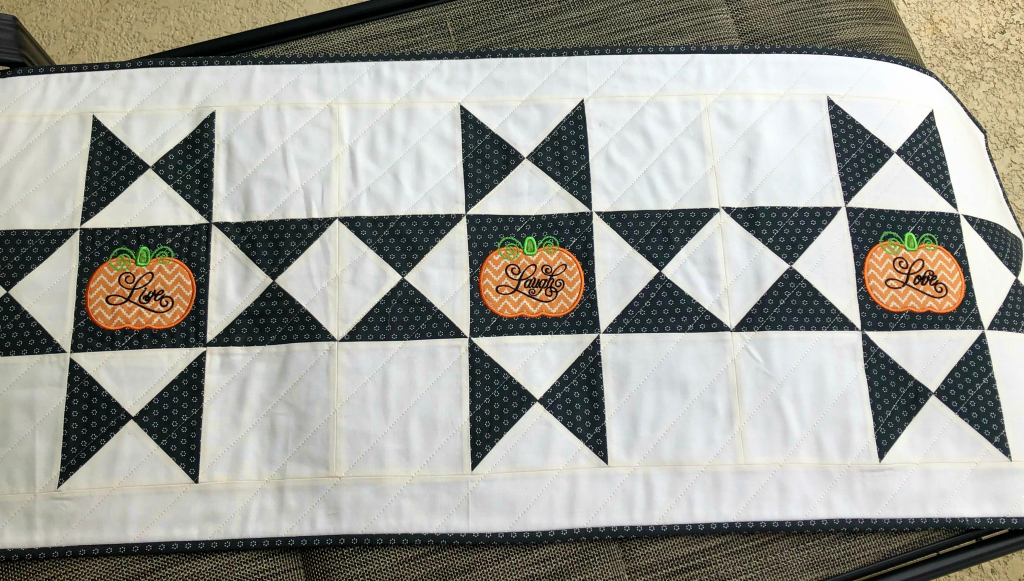 Ohio Star Pumpkin
I made matching placemats. Two of the mats I built a courthouse quilt block around the embroidery, the other two I added a simple border alongside the embroidery.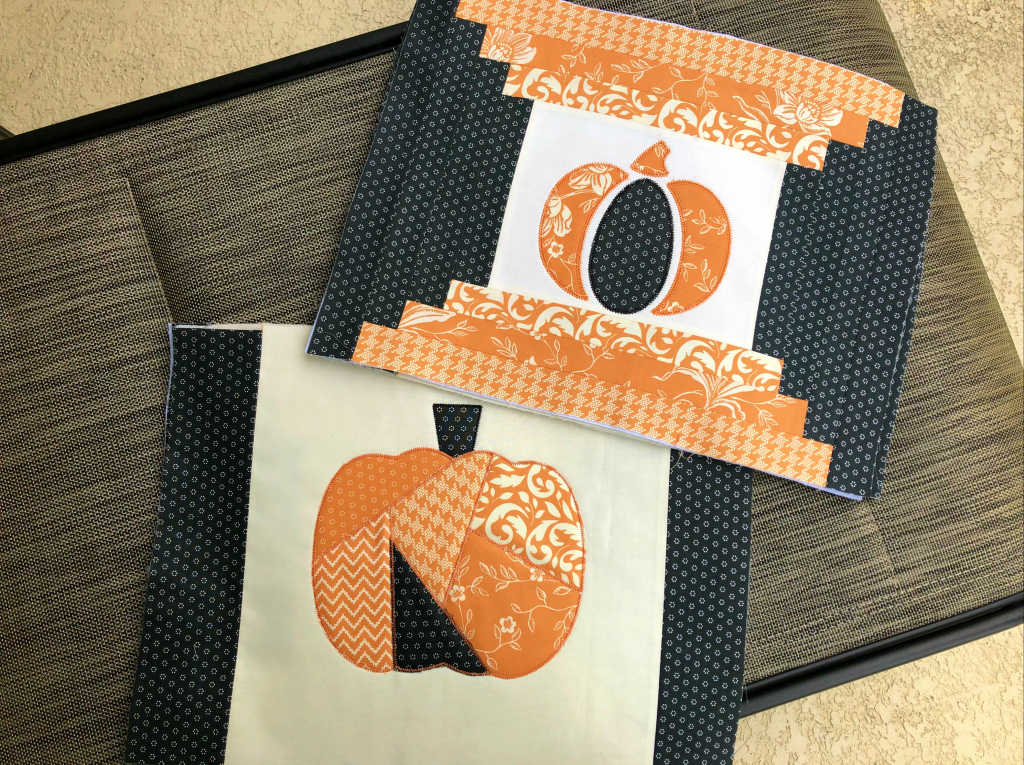 Pumpkin Placemats
Using V&Co metallic confetti fabric in black and white I made a simple 17 x 41 inch pumpkin table runner with the text – Blessed, Grateful, Thankful embroidered to the center of each block.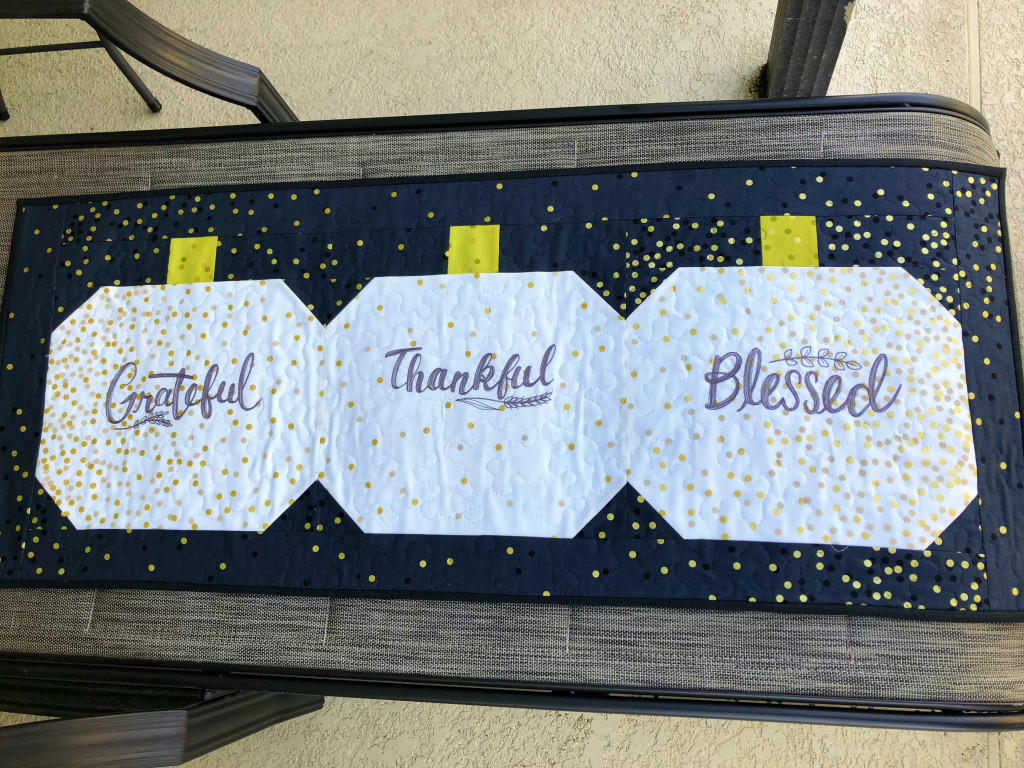 pumpkin tbl runner
I made another table runner using the maple leaf quilt block. I was inspired by the pattern Pressed Leaves from the McCalls Quilting Sept/October 2015 magazine designed by Tonya Alexander. I modified the pattern to use a charm pack to make a larger leaf block. No surprise I made a matching placemat!
maple leaf tr

maple leaf pm
My daughter's best friend had a baby girl this week. I started a quilt for baby Bella using Jordan Fabrics shooting star quilt pattern.
Using the Scan N Cut DX, I was able to quickly cut my confetti dots fat quarters into 5 inch squares. I opted to go with a piano key board border.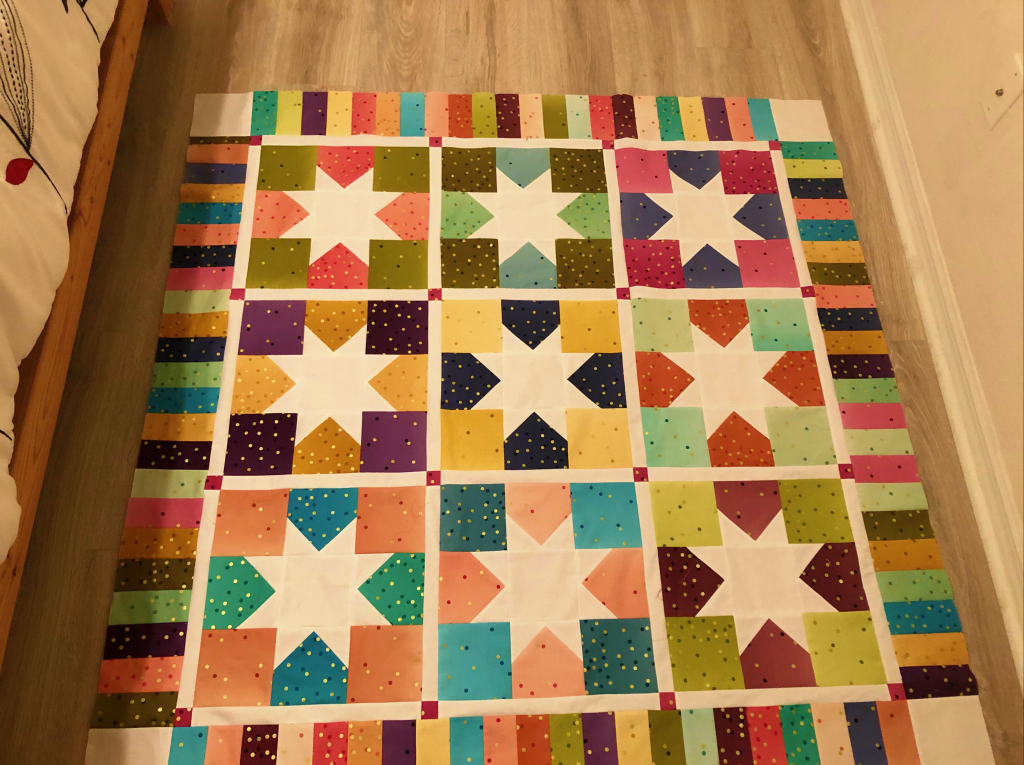 Shooting Stars WIP
Happy Sewing — and have a wonderful weekend!