Hello Spring – Part 2
Happy Tuesday!
I hope everyone is enjoying staying at home and spending more time sewing!
My second favorite place to decorate is our coffee tables — all of them both inside and outside have glass tops. I think I secretly choose glass tops so that I have a reason to sew. Making table runners and coasters keep me from dusting on a daily basis ?
Keeping the tulip theme going, I modified MSQC Totally Tulips tutorial to use as a table runner. I used scrap batiks to make the 22 x 43 inches table runner.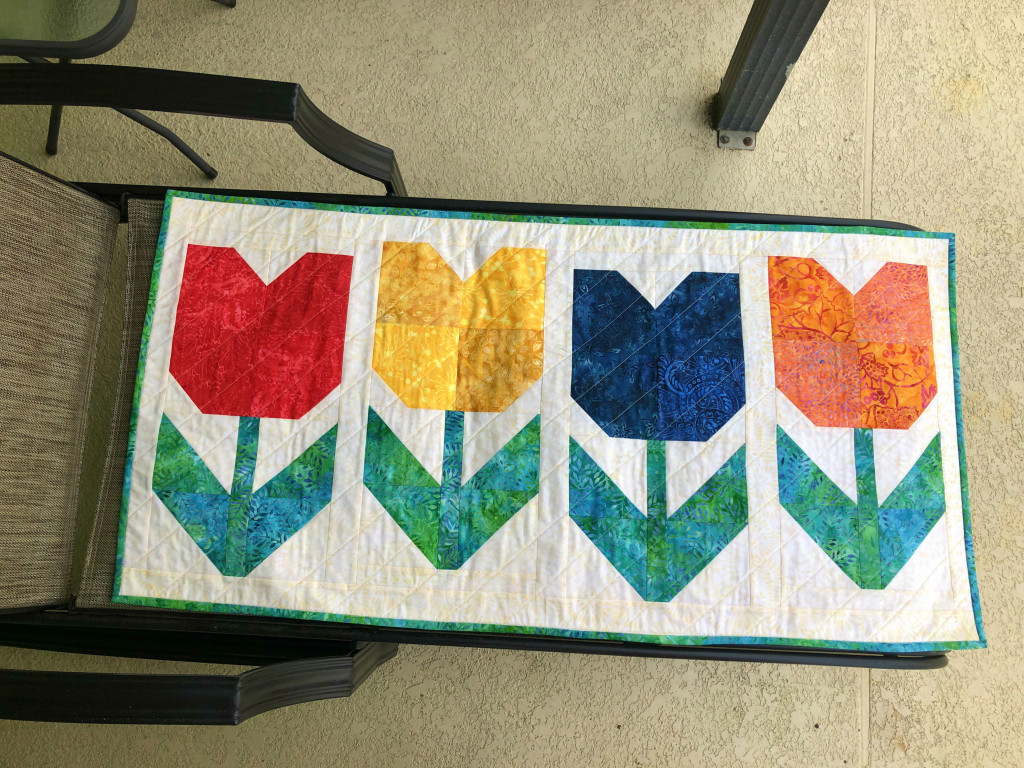 Totally tulips table runner
You can watch the video explaining how to make Jenny's totally tulip quilt block here.
Also, because of the glass tops I tend to make lots of coasters. This is the set I made to match the totally tulips table runner.
I purchased the spring tulip design from Embroidery Library. You can find it here. I used the smaller size — perfect for a 4 x 4 embroidery hoop.
Below you will find the steps I use to make coasters and a coaster cozy. Sometime I use embroidery most times I use scraps. This is definitely a great way to use up smaller scraps or charm packs.
The coaster and cozy make great gifts!
This tutorial will make four coasters and one coaster cozy. I hope you enjoy your set as much as I enjoy mine ♥
Materials:
Four (4) Embroidered designs trimmed to a 5 x 5 inch square per coaster
Or four(4) 5 x 5 inch of fabric to use as the front of each coaster
1 fat quarter for backing fabric or fabric scraps at least 5 x 5 inches square
Scrap batting at least 5 x 5 inches per coaster
Step 1 – Embroider your design and trim down to 5 x 5 inch square. If not using embroidery use fabric you selected to be the front of your coasters.
I usually hoop the fabric and batting — no stabilizer.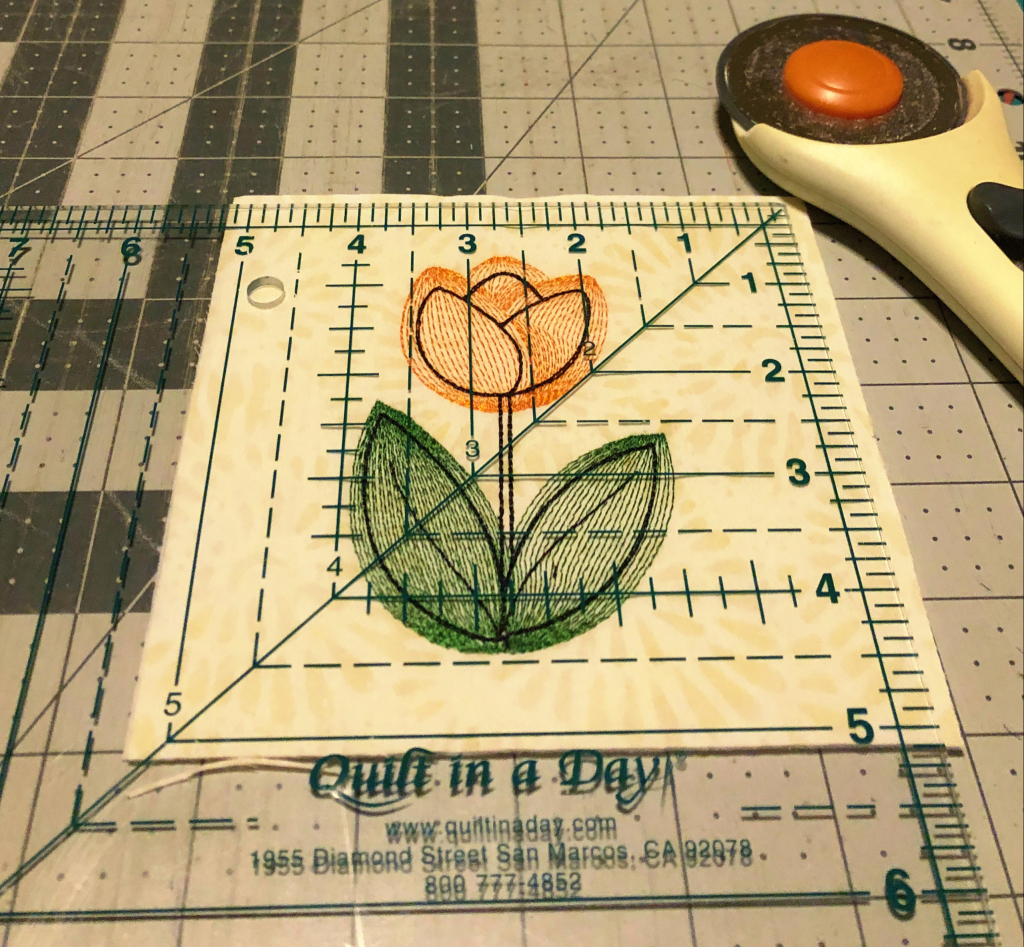 Step 2 – From your fat quarter or scraps, cut four 5 inch squares to use as the coaster backing.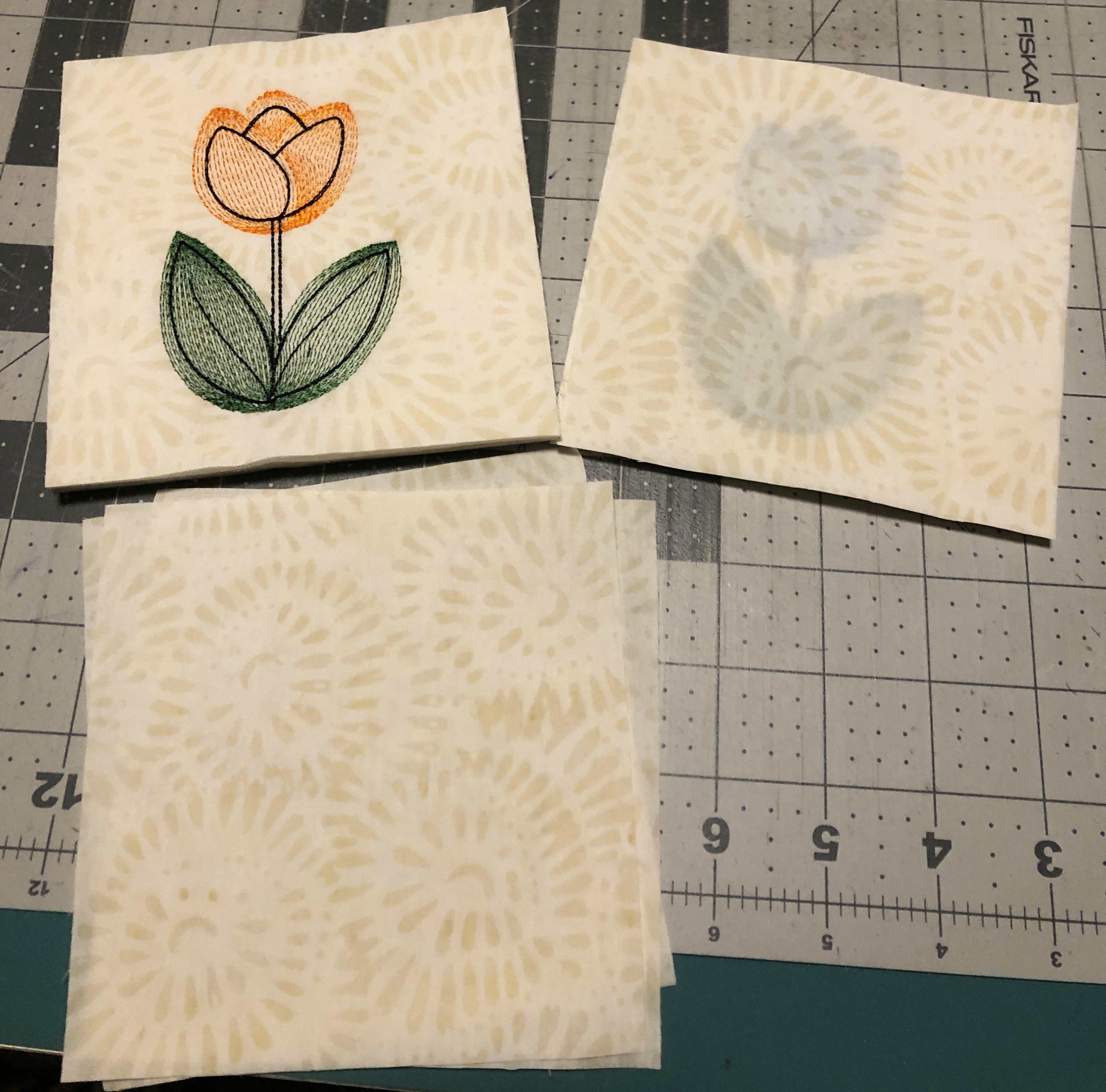 step 2
Step 3 – From your scrap batting, cut four 5 inch squares- only if not using embroidery.
Step 4 – Layer the coaster top fabric on the back fabric, right sides (pretty side) facing. Place the batting on top. Make sure all edges are aligned, use pins or wonder clips to keep everything in place.
Step 5 – Sew a ¼" seam around the outside of the coaster leaving at least a two inch opening along one side for turning inside out. Make sure to back-stitch at the beginning and end.
Step 6 – Using scissors or rotary cutter, trim the excess fabric at a diagonal from the corners.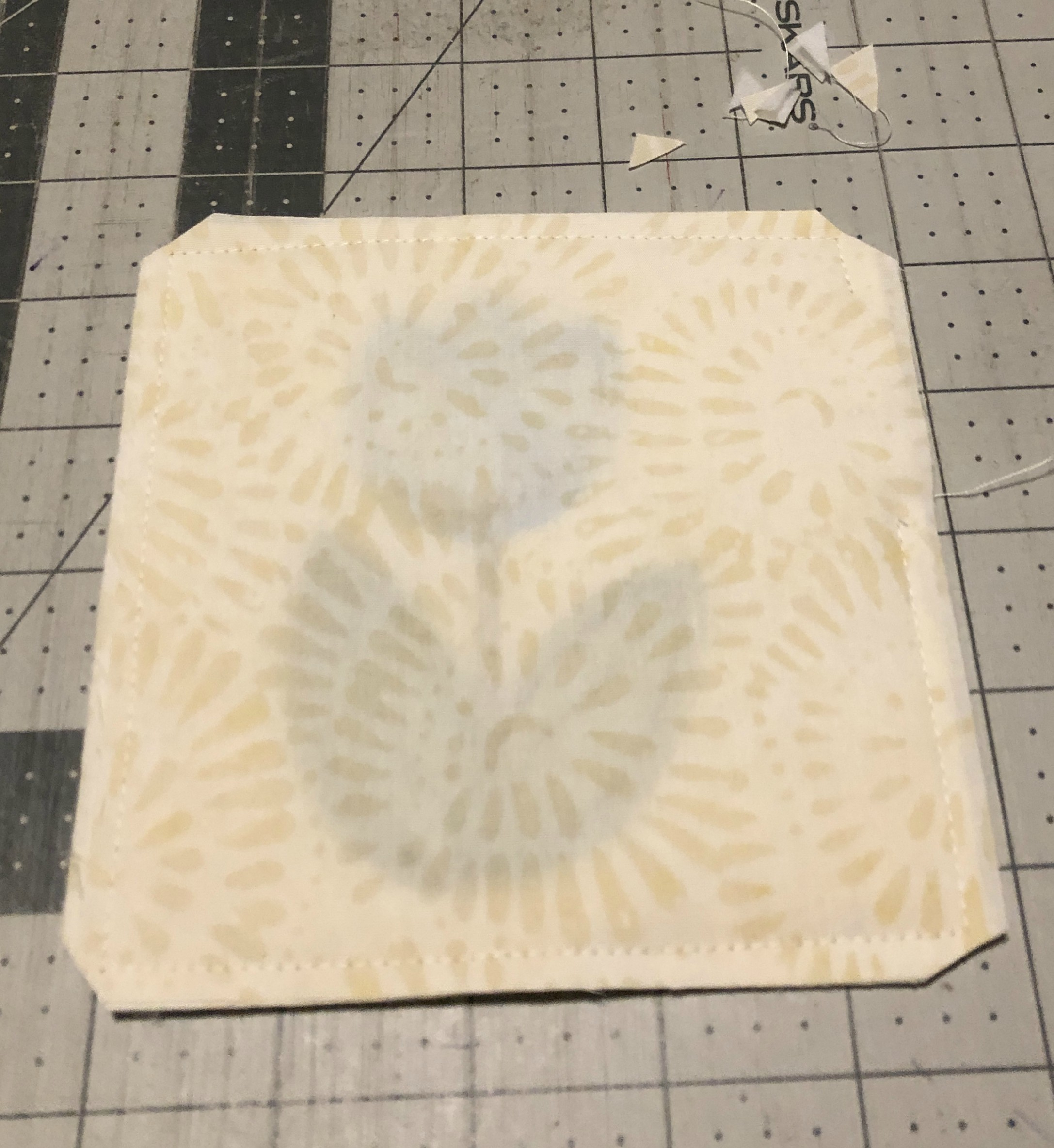 Step 7 – Through the 2" opening, turn inside out so that the batting is sandwiched in between the coaster top and backing fabric. To close the opening from step 5, fold the opening inward ¼", press with an iron, and then top stitch 1/8' around the entire coaster.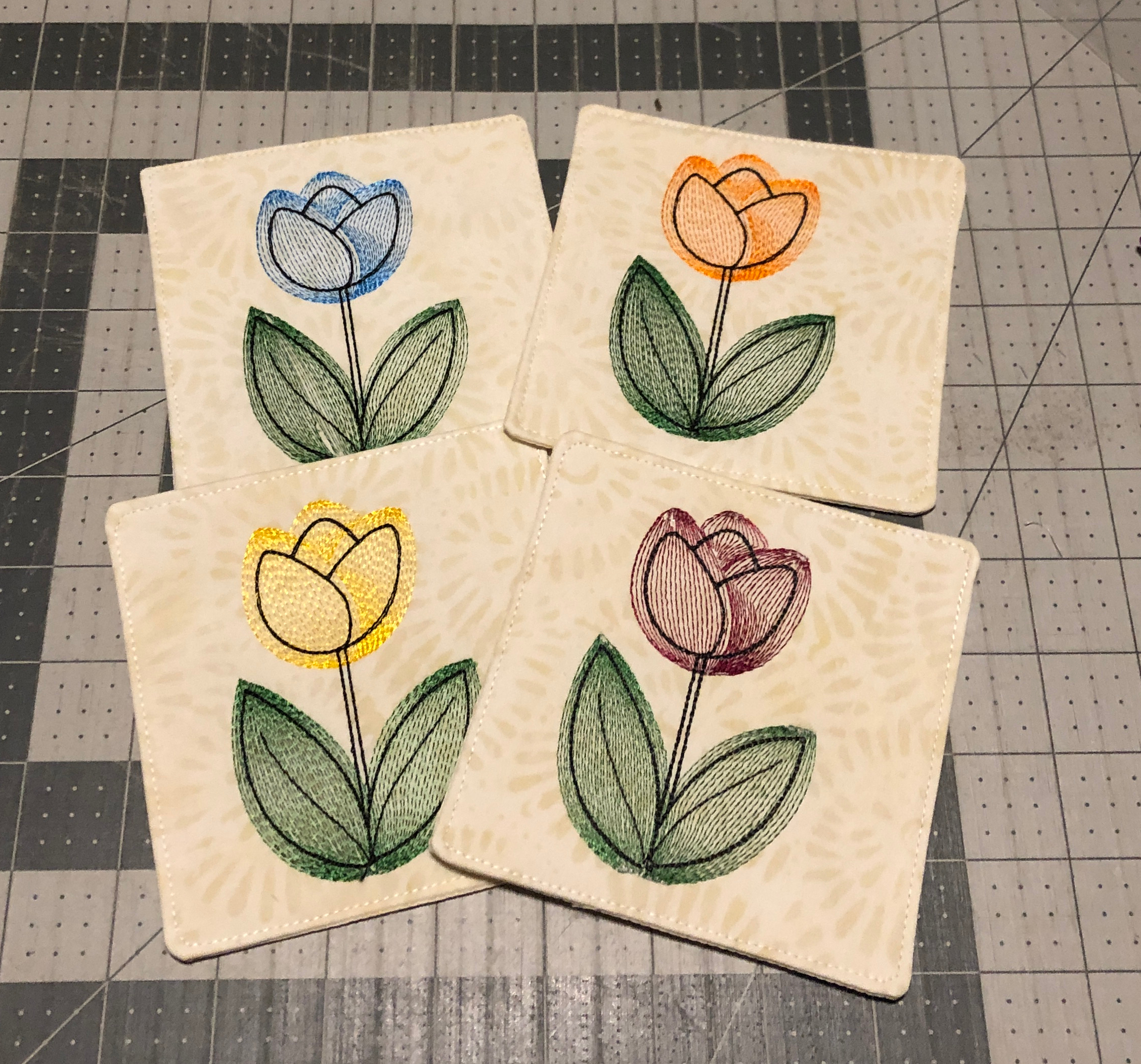 Step 8 – To make the coaster cozy, sew enough fabric scraps together so that you can cut two 6.5" squares. From your scrap batting, cut one 6.5" square. Follow Steps 4 through 6 (above), but using these 6.5" squares.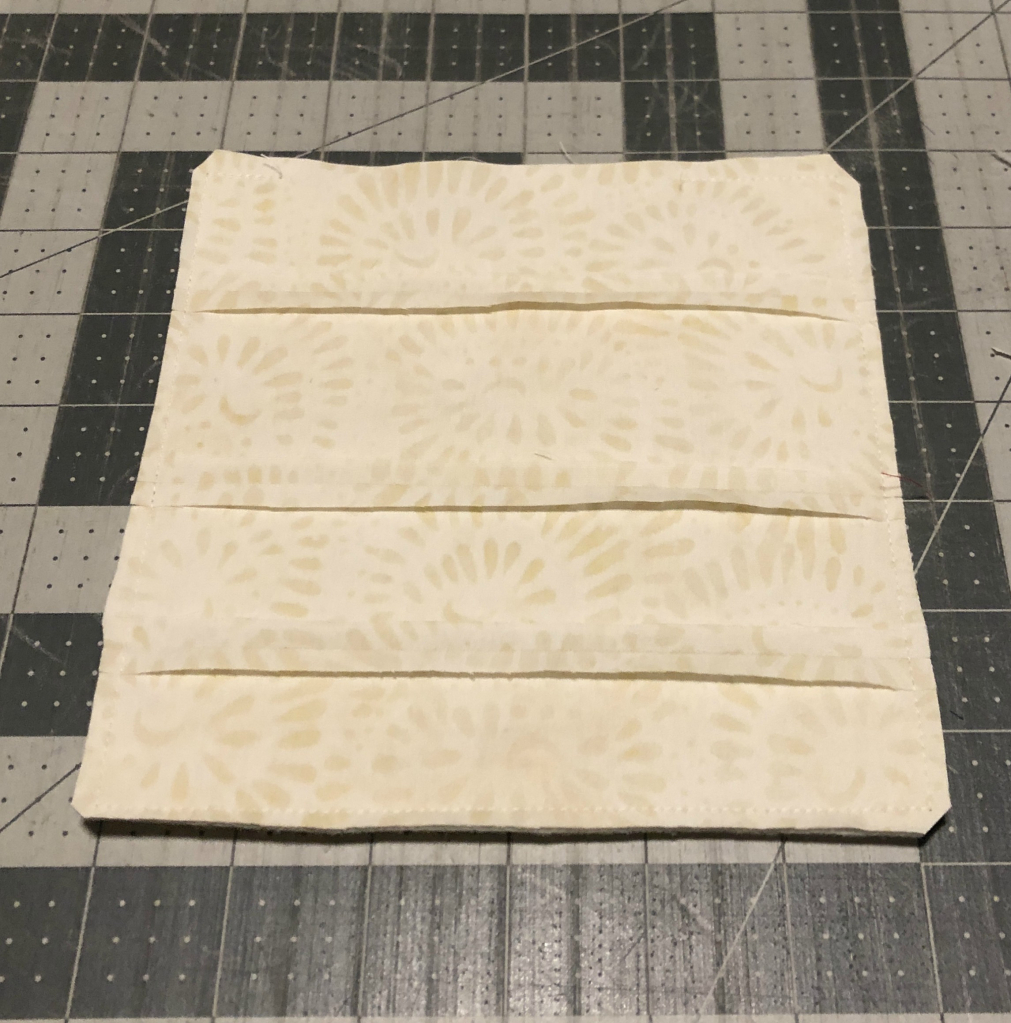 After turning inside out I quilt straight lines forming an "X" corner to corner to stabilize the unit. Sorry for the bad photo — it was night time and I used matching thread.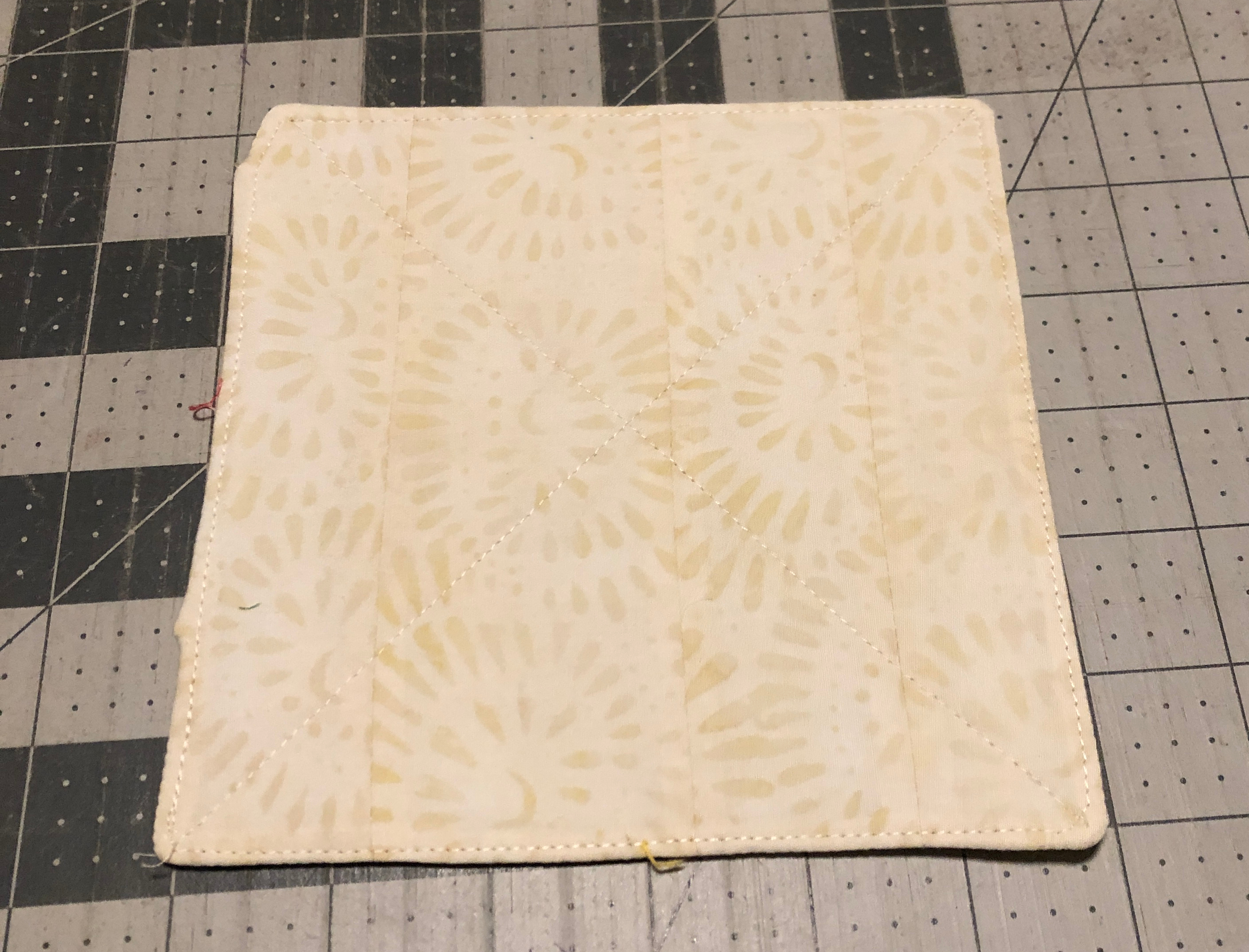 Step 9 – As shown below, pinch each corner so that a wall forms on each side. Clip or pin the corners to keep them in place. Place at least one of your coaster in the center of the pinched cozy to make sure they will fit after stitching.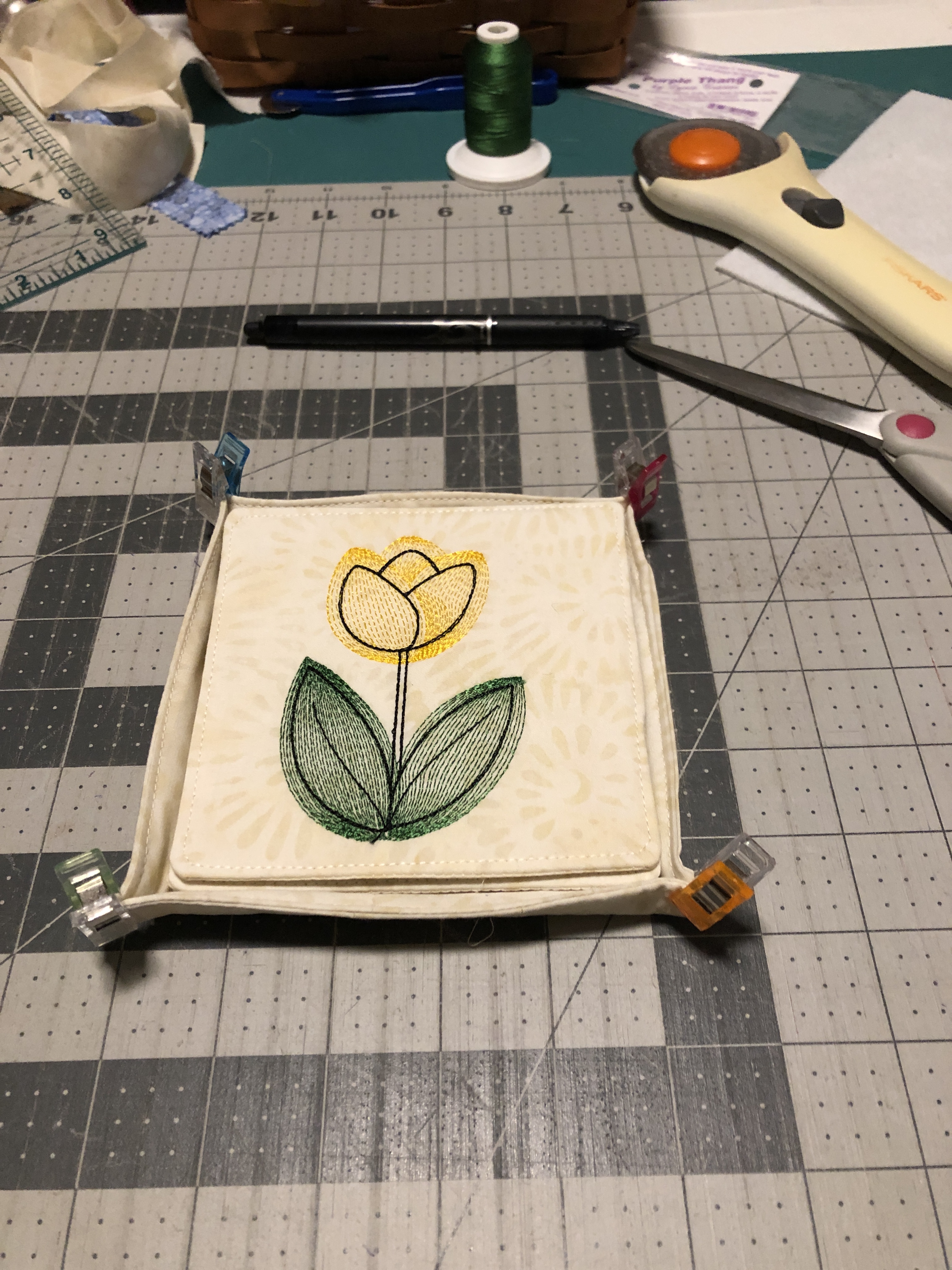 Step 10 – Stitch the pinched edges.
machine embroidered spring coasters, tulips
" data-medium-file="https://embroideredtreasures.files.wordpress.com/2020/03/spring-tulips-coasters.jpg?w=300″ data-large-file="https://embroideredtreasures.files.wordpress.com/2020/03/spring-tulips-coasters.jpg?w=538″ src="https://embroideredtreasures.files.wordpress.com/2020/03/spring-tulips-coasters.jpg?w=1024″ alt="machine embroidered spring coasters,tulips" class="" />
spring tulip coaster and cozy
Voila – enjoy your new coasters and cozy!
Feel free to ask any questions — I realize it's not a detailed tutorial but hopefully it's enough information to get you started!
♥♥ Enjoy your day and stay safe ♥♥