To Do Tuesday – #3
To Do Tuesday is a linky party hosted by fellow blogger and quilting friends Roseanne & Sue at Home Sewn By Us. It's a great way to document projects you are working on, stay focused and be inspired by what others are making!
To-Do for the week of April 7th through April 13th:
Avant Garde Quilt & Pillow – √ done
Quilt Hexi Bloom Wall Hanging – not done
Start piecing Baby Girl Quilt – √ done
T Shirt Quilt Plan – √ done
To-Do #1
I did a search on Google to see how others had used the Avant Garde fabric by Katarina Roccella. I fell in love with the Twinkle Twinkle quilt made by Erica Jackman from Kitchen Table Quilting .
Her design spoke to me and I knew I had to make something similar for myself!
I was heartbroken when I clicked to her shop and no pattern for this quilt was available. Turns out she created the quilt design in EQ7 for the Avante Garde fabric blog hop she was participating in.
Next I had to put on my thinking cap — Only two quilt blocks were used and one was easily identified — the snowball quilt block. The second block was something similar to a kaleidoscope block. She'd given the quilt stats so I knew each block finished at 9 inches square.
My next obstacle was not having enough fabric on hand….Avant Garde is an older collection, hard to find and I didn't want to spend any money. At this point I was really bummed.
A few days passed by and one night while dreaming I had an aha moment — I realized the shape was a kite — so I got out of bed and went thru my box of templates and found my Missouri Star Quilt company periwinkle tool and did my happy dance!! All of a sudden I had plan — did a quick sketch, did some quilt math. In all honesty it wasn't quick, nonetheless it was a doable plan.
I cut the bright colored fat quarters into 8- 5inch squares. Using the periwinkle tool I cut out the kite shaped from the 5 inch squares, then appliqued 4 onto the corners of a 9.5 inch square of background fabric. Giving me the pseudo look of a kaleidoscope block.
Later I realized I could have used the Wanta Fanta Quilting Bees Block by Blossom Hearts to achieve the same design which includes paper piecing that I LOVE — guess I wasn't a genius after all ?
Despite my temporary meltdown I'm happy with the results! I love the circular secondary pattern created from the corners of the snowball quilt block.
The quilt measures 45 x 56 inches, I plan to use it as a throw in my office.
avantegarde finished
I used some of the scraps for a small pillow. I used Jenny Doan's jelly roll star pattern and added my own spin to it.
To-Do #2
Didn't get the hexie bloom wall hanging quilted, I did get it basted. Hopefully I will get it quilted this week.
To-Do #3
Originally I had planned to make a baby girl pinwheel quilt. After looking at the fabric I decided a orange peel quilt would be better suited with the vintage 30's Chloe's closet prints.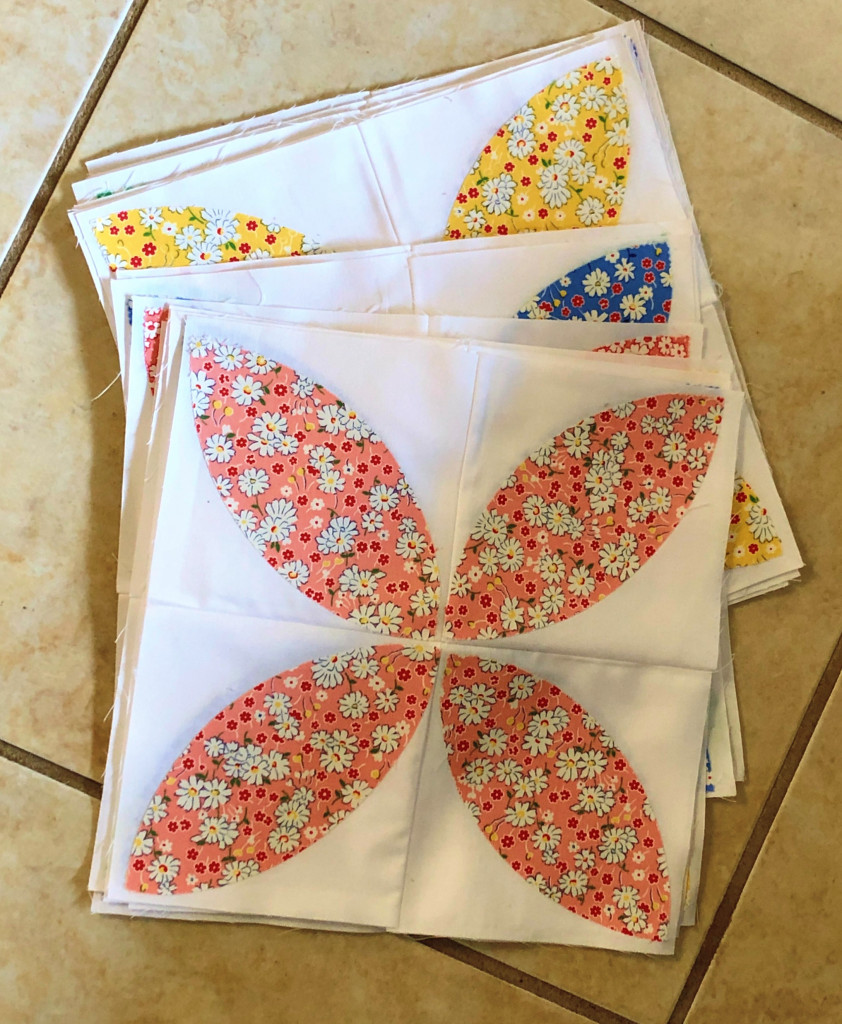 orange peel wip
To-Do #4
T-Shirt Quilt – shirts washed and trimmed :).
To-Do for the week of April 14th through April 20th:
Candy Corn Table Runner
Quilt Hexie Blooms Quilt
Start piecing Baby Boy – Patchwork Elephant Quilt
Finish Piecing Winged Migration Quilt
Fabric pull for RWB table runner
Be sure to stop by to see the lovely creations of those who joined this weeks To Do list linky party with Roseanne at Home Sewn By Us.
Happy Sewing and stay safe!