Friday Finishes
Happy Friday!
Two weeks ago I showed you this fabric pull for a weekend sewing project.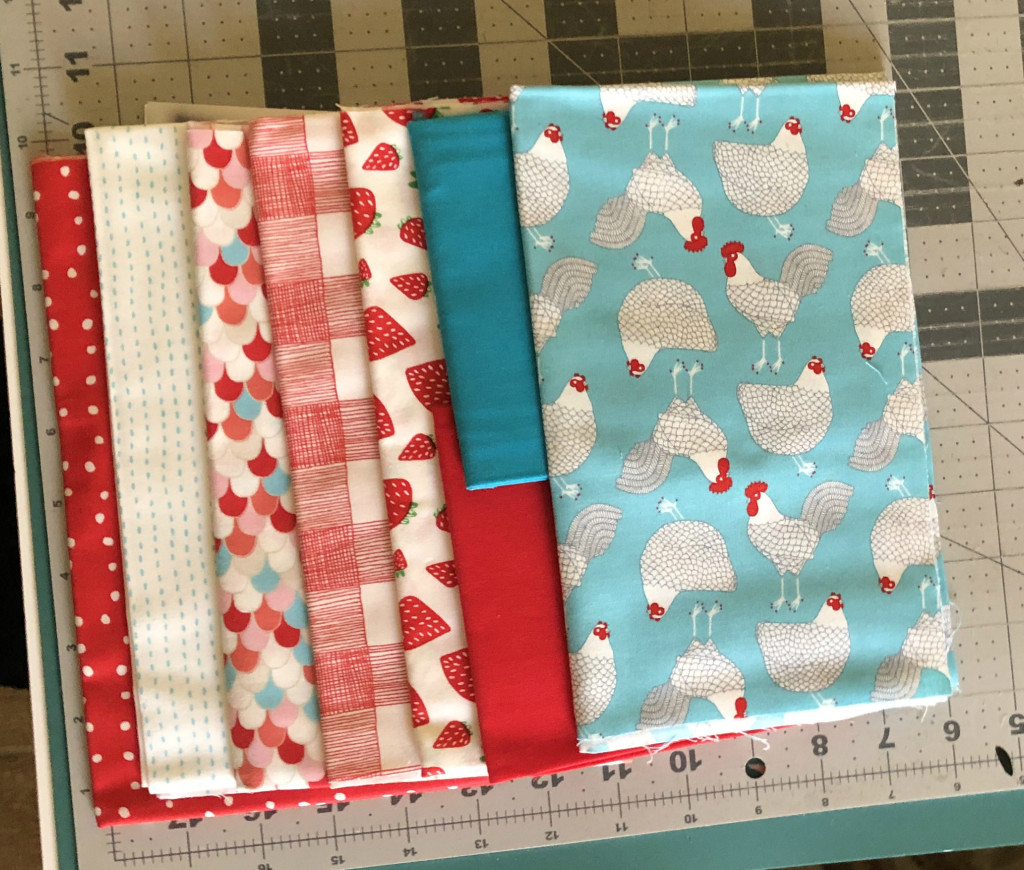 weekend project
Instead of working on new quilty kitchen items I started making masks for family and friends.
This week I was finally had time to work with the Farm Fresh bundle by Gingiber for Moda. I love making new potholders to spruce up my kitchen while practicing or learning new techniques.
Have you tried Lori Holt's Crazy Quilt Paper? It's a unique way for piecing 10 inch fabric squares. When the block is assembled it resembles a crazy patch quilt block.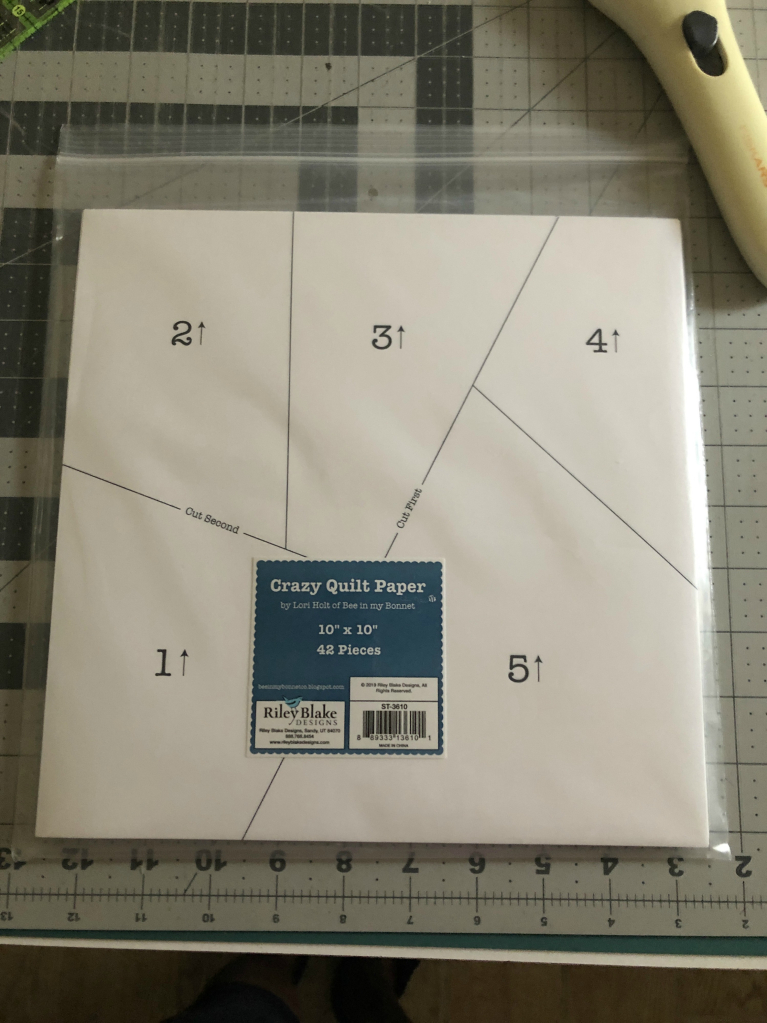 The paper itself resembles freezer paper. One side is waxy and you iron on to a 10 inch square.
Next step is to cut on the lines, which are labeled for you. I ironed one of the crazy patch sheets to one 10 inch square of print fabric then stacked 4 additional 10 inch squares (a total of 5) before cutting so that I would have one fabric unique to each position.
CP Step 1

CP Step 2

CP Step 2a
Leave stack one as is — in stack #2 move the first piece to the bottom, stack #3 move first and second pieces to bottom…continue until you have 5 unique fabrics on top.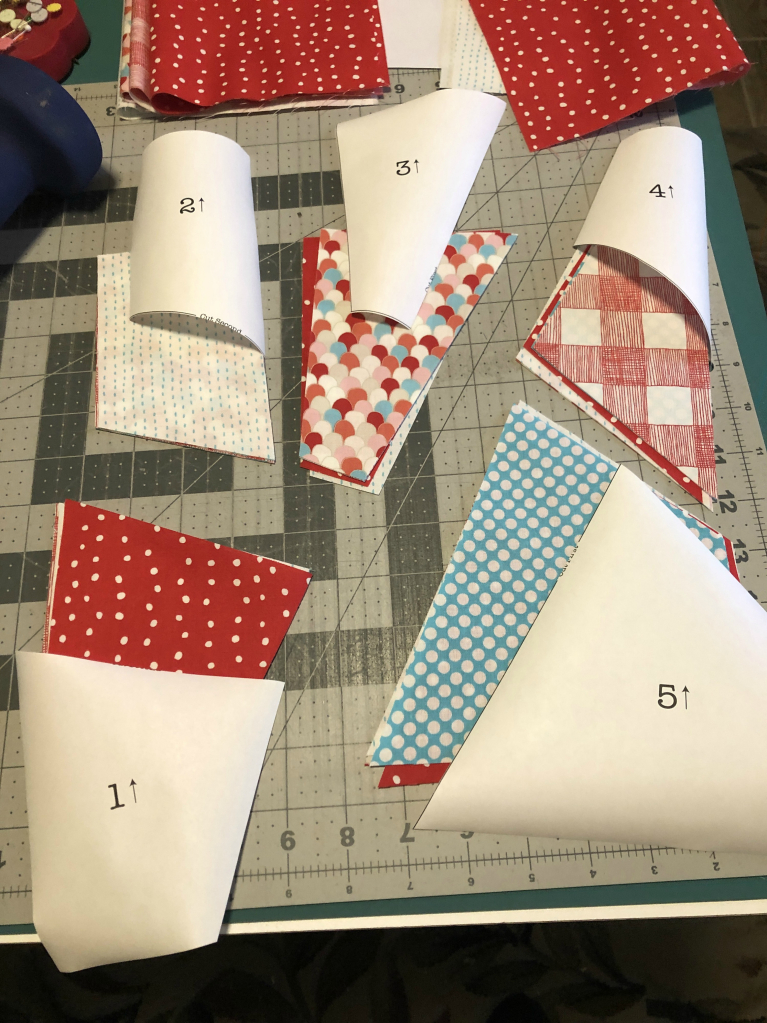 CP Step 3
Sew the pieces together — the instructions are on the back of the pad.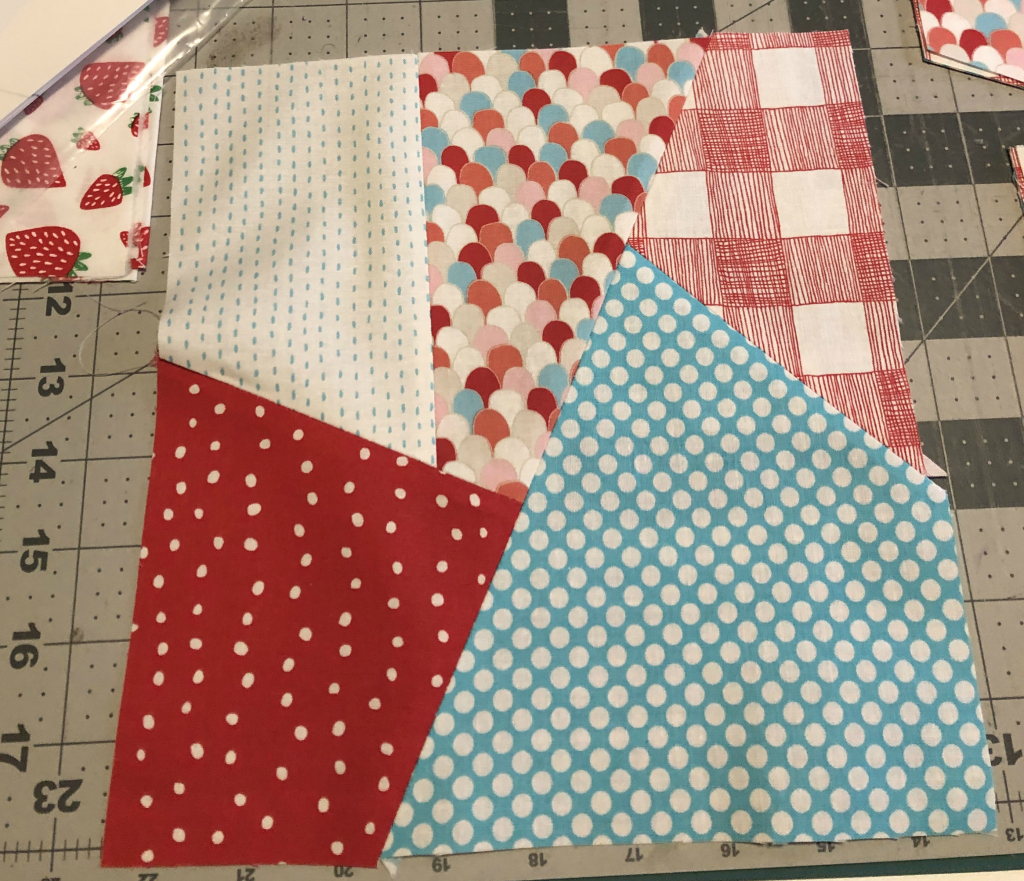 CP Step 4
Square the block to 8.5 inches.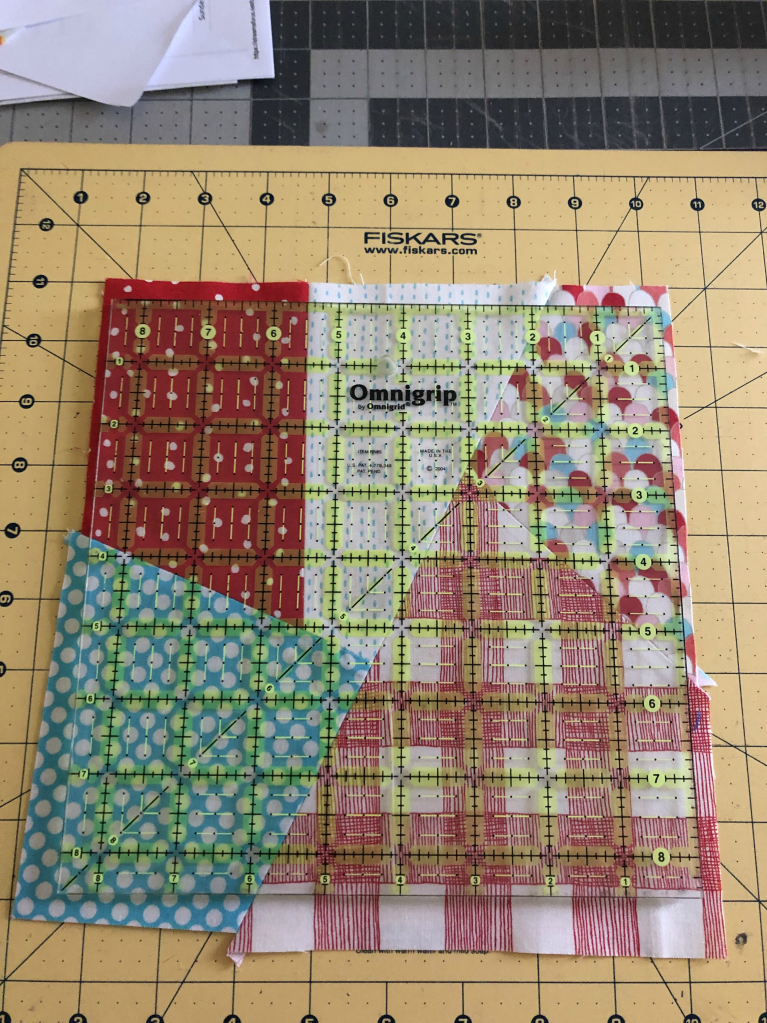 CP Step 5
I sewed four of my five blocks together, added batting, Insulbrite and backing to quilt. At this point the quilt was 8.5 x 32.5 inches, to use as the foundation for a double pocket oven mitt.
CP Step 6a

CP Step 6
I basted on the two pockets, rounded the edges, being me I had to add a little machine embroidery! Final step was adding bias binding.
Voila — double oven mitt — completed ?
farm fresh double oven mitt
With the remaining crazy patch block I made a potholder and used a few of the decorative stitches on my machine to give it the crazy patch look and added a monogram. I also made a second potholder using this tutorial for the chicken.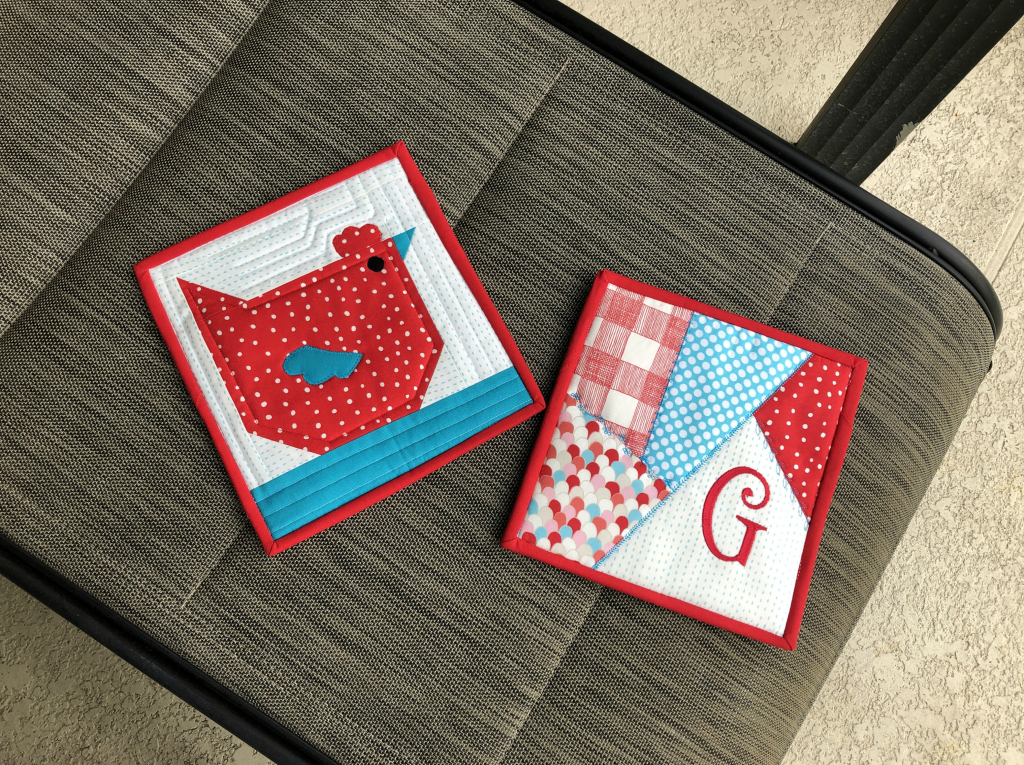 Farm Fresh Potholders
I like to keep a hot pad on my counter to place hot dishes from the oven. I used the last of the farm fresh fabric to make this 12 x 18 hot pad. I added an applique design so I could practice doing a blanket stitch before I start working on the orange peel baby quilt.
Isn't she cute…I sew love how it turned out ♥♥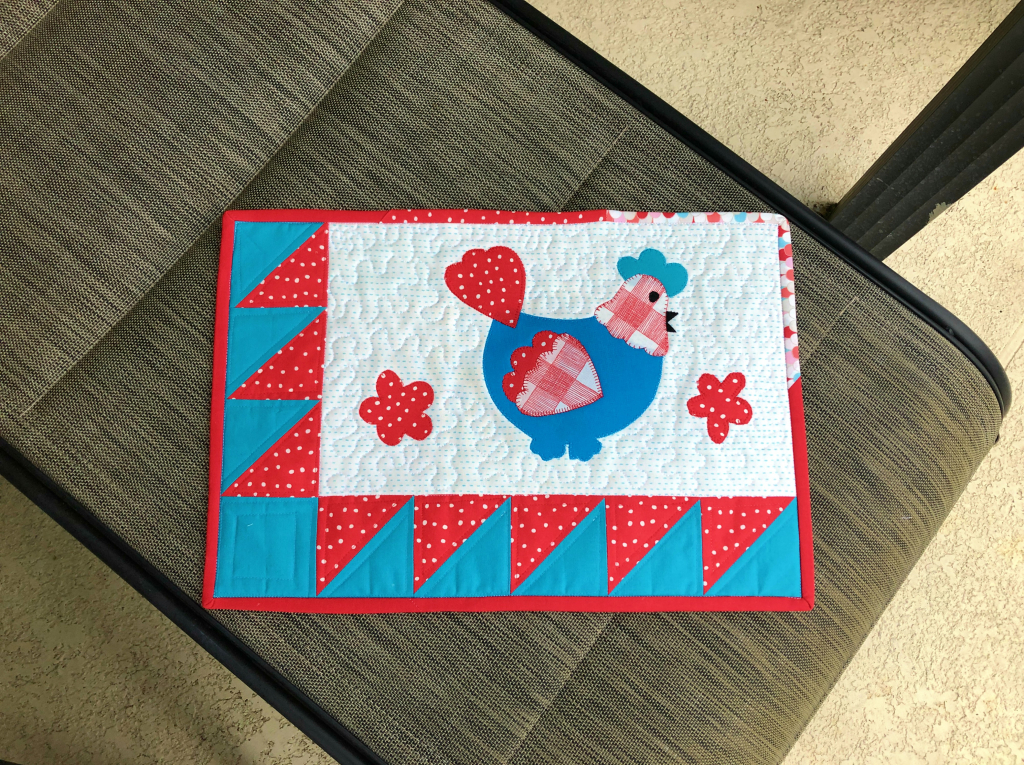 farm fresh hot pad
This weekend I plan to finish up a UFO. I participated in the Jelly Cabin Fever QAL with the Fat Quarter Shop last year. I'm using a QAYG technique to finish it, hopefully it works out!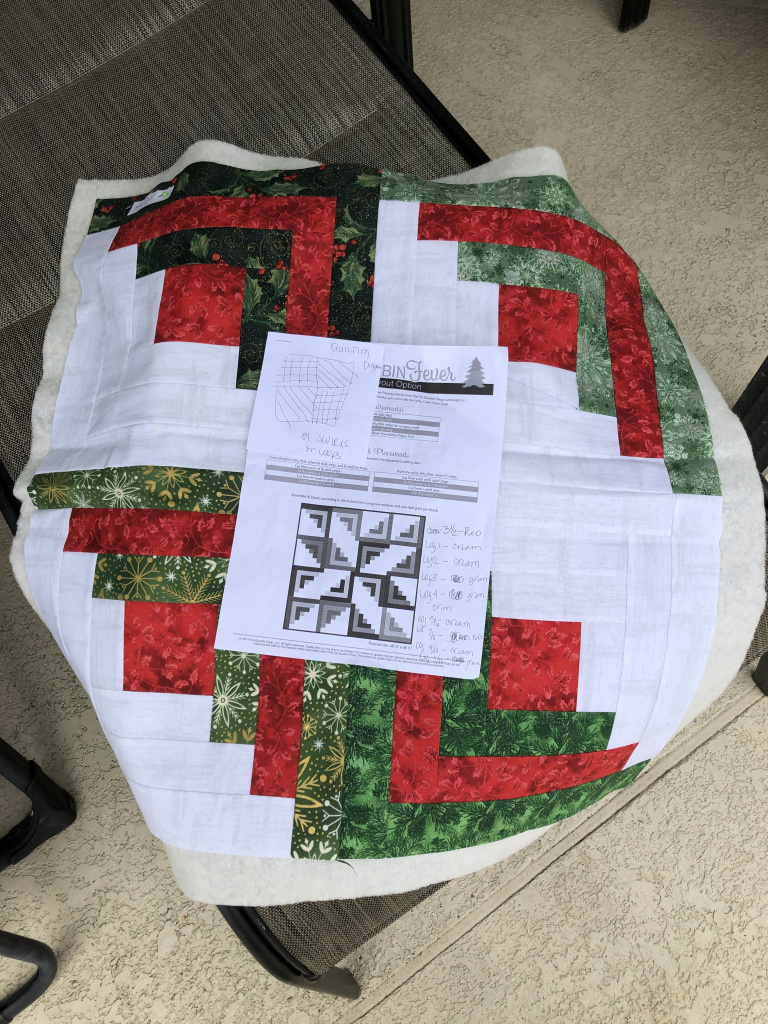 What are your sewing plans for this weekend?
Happy Sewing and be safe!!